Sprint HTC One M8 3.30.651.2 firmware available for download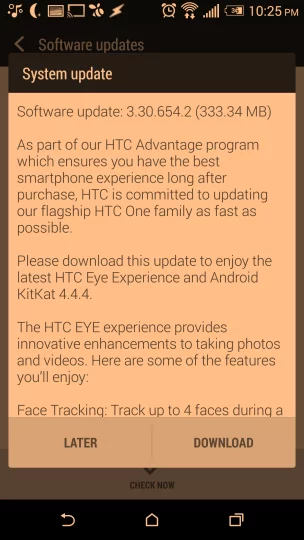 The Sprint HTC One M8 firmware is now available available for download over at TheMikMik for those who are interested.
There's a new HK adsp from the RUU, and an updated 3.19 hboot without any red developer text that you can flash separately. It doesn't look as though a stock rooted ROM is available over there yet, but there'll be one out somewhere soon enough. As soon as ROMs start rolling out chances are you're going to need to head over there and grab the new firmware.
It turns out that the version number 3.30.651.2 has been used a couple of times. So don't get confused with an EVO 4G update, that probably isn't happening ever again.
The race is currently on, it appears, to build a 4.4.4 custom ROM that works and functions like the highly customized 4.4.3 ROMs. I've seen several mentions of different developers getting to stock rooted, and then fighting to get everything else added. So hopefully we'll be seeing some great 4.4.4 ROMs this week.
Why Sprint had to drop the update on a weekday when people have jobs to go to and all is beyond me.
As for whether or not you're going to need the new firmware. I do not know. We'll probably know in a day or so.
[
TheMikMik
]