Let us know: Were you able to order the Nexus 9 for 50% off?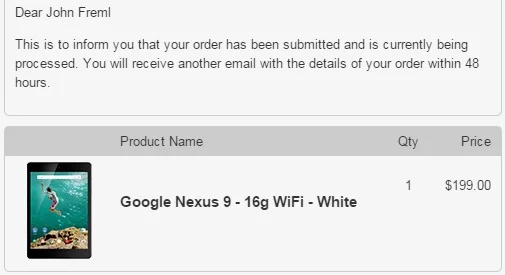 HTC just ran a really hot deal – like, really hot. If you were quick like an internet ninja, and you happened to navigate to the HTC Hot Deals site at just the right moment, you were able to order a 16GB Google Nexus 9 by HTC in either white or black for only $199 – a full 50% off, on only the second day after the tablet was released.
While those who pre-ordered the tablet from Amazon or stormed Best Buy yesterday might feel a little cheated by this massive discount given to a select few of us who waited until the second day to order, they can at least take solace in the fact that only a very select few were able to snag this deal. Indeed, most people I've spoken to who tried to get the deal were met with shopping cart errors and other major server crashes. C'est la vie.
Additionally, HTC's does have a somewhat less exciting consolation prize for those of you who weren't able to get in on the madness: until midnight tonight (Eastern time), you can get $50 off a 16GB or 32GB Nexus 9 in black or white. $50 is certainly nothing to sneeze at.
But I'm wondering, how many of you were able to snag this deal? How many of you wanted to get in on this, but were unable? And how many of you are just hearing about this for the first time? (Sorry – silly embargoes!)
Let us know below!