OLALA C5 10000mAh Power Bank review
The OLALA C5 10000mAh Power Bank is a stylish, packed with power, inexpensive, charging dynamo. With a battery holding roughly five times the capacity of most cell phones on the market, you can be assured your phone will last the night.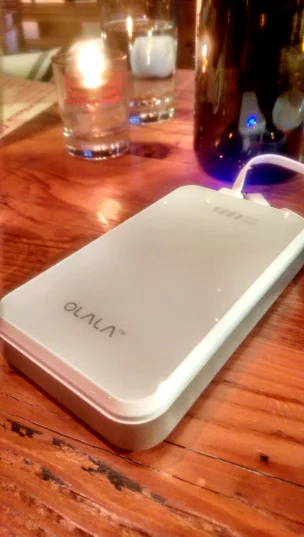 The OLALA C5 has two USB outputs, one for 1000mA charging, and another for up to 2100mA charges, although you can charge a phone on the 2100mA and due to the way they work you'll be fine with that.
The OLALA also can charge most tablets to completion if my memory of tablet battery capacity is correct. Coming in at 10,000mAh it's got a bigger battery than anything I see in the tablet world.
The OLALA C5 is capable of charging two devices simultaneously (according to the documentation, I only charged one at a time,) and appears to be able to do pass-through charging so you can be charging the unit and charging a phone at the same time. This is pretty important when you're looking at 12+ hour charge times for such a beast of a power supply.
The part where Paul nitpicks
With great mAh comes added weight, which is to be expected. Unfortunately, this takes the OLALA C5 from an easily portable and pocketable device into something that's good to bring along, but you're going to notice it in a pocket and want a belt. Not a deal breaker by any means, just something to consider.
The dual outputs harken back to a simpler time in portable power bank history. While this is a new charger, I've been seeing many that just choose the amps for you allowing you to have either port devoted to being the higher amperage port. Also not a deal breaker.
With great capacity comes greater charge times. While I don't expect everything to charge instantly, it does become somewhat of a pain to see a device capable of delivering 2.1amps that only charges at 1. This means your charge time from a dead battery to completely full is at least 10 hours. The Newegg spec sheet lists a 1amp charge time of 16 hours, however I'm pretty sure it's more in the 12-13 range. Either way, give it a day for charging
The OLALA C5 in use
When I got the C5, the first thing I noticed was that the unit appeared to have manufacturing residue on it. This brushed off revealing a clean and scratchless unit, but it was rather odd. You can see this in the first three pictures above – looks like scuff marks, but it's just manufacturing dust.
The device shipped with probably a 2500mA charge. It was on two out of four bars when I got it and one bar ten minutes later. This was the only time it went down so rapidly so this isn't a concern.
I threw the OLALA C5 in my jacket pocket along with some change and a set of keys. It wasn't exactly a device death test, but it's what the average device is probably going to go through. When I got it out later I noticed there were some minor scratches on the white face and back where the keys had rubbed up against it.
Taking my fingernail to it, I carved the word "Pocketables" very easily, and also very badly into the plasticy case covering. The front and back where the logo and the warnings are appear to be protected by a thin plastic sheet that doesn't handle damage. Underneath this sheet the actual device is rugged, but that sheet is more for decoration than for protection. Once again, not a deal breaker, but you might want to grab a little cloth bag if you're carrying this around. I'll post this picture later, I forgot to take it and am not with the unit as of publication time. It's only noticeable if you're looking for it.
I thought at first this was a peel-away protective covering, but it seems adhered to the product.
As for phone charging, it seemed to do fine. I didn't notice any significant differences on Battery Monitor Widget between it and a wall plug, and it charged my M8 and the wife's M7 a few times before it gave up and died. I won't dispute the 10,000mA rating.
Wrap-up
Coming in at $27 the OLALA C5 may make the best buck per amp charger we've ever reviewed. I'm pretty sure we have one that came close and is still chugging, but I can't remember the name of it as of publication time.
The OLALA C5 is available for $26.99 in white or black from Newegg.