Test your Chromecast speed with Speed4cast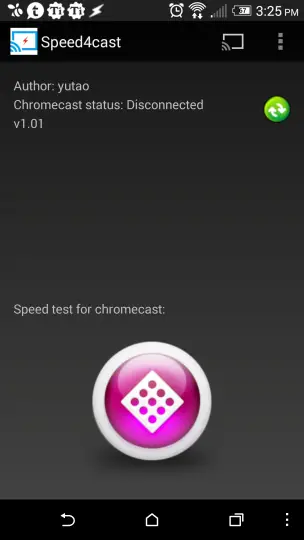 If you've got a Chromecast tucked away behind a TV in a mess of wires, you might have trouble getting WiFi to it, and even sometimes when you're otherwise in the clear WiFi dead spots exist in your average room. Until now, other than putting up with terrible video, the only way to really tell how good of a signal you were getting on your Chromecast was to log into your WiFi access point and hope that there was some metric information there you could piece together about the quality of the transfer.
Speed4cast can cut away from the guessing and tell you exactly how fast your Chromecast can stream given the current network situation, the download and upload speeds respectively, latency, and a jitter time which I'm not entirely sure what that is.
Using the Speed4cast app you can easily see what effects moving the Chromecast around a few inches (such as with the included inch or two adapter that came with them,) can accomplish, and break down video problems to if it's your Chromecast, WiFi, ISP, or just a bad streaming condition.
There really aren't many options available other than to select a Chromecast, choose the volume (not used as far as I can tell), and run the full test on the thing. There's zero app feedback, and the Chromecast does everything on the TV screen, so there's really not much to do but sit back, watch, take notes, move the Chromecast, repeat.
Speed4cast is free, it a useful debugging tool when you've got a problem or perhaps a useful annoyance tool when you're in the range of someone else's Chromecast. It's something I wish they'd included with the Chromecast app. There are no weird permissions, not even internet, which is interesting as it's directing the Chromecast to do internet actions. Bet we'll see something about Chromecast enabled apps sending information via the Chromecast as a hacksploit later on, but this doesn't appear to do that.
It's just really useful for positioning the Chromecast.
Download: Google Play