Aukey Portable Bluetooth 3.0 Audio Receiver review
The Aukey Portable Bluetooth 3.0 Audio Receiver is a small adapter that allows you to use wired 3.5mm connections wirelessly. This is quite useful if you've got a favorite wired headset, home stereo, or a car with an aux-in, and wish to use them wirelessly with your Bluetooth 3.0+ enabled smartphone.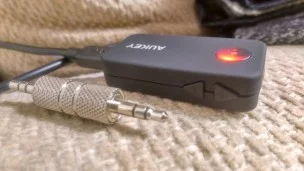 The receiver also includes volume, track, and multifunction buttons which are useful for controlling any A2DP devices up to (theoretically) 33 feet away. The receiver additionally comes with a built-in microphone so you can turn your headphones or car into a full blown speakerphone.
What's in the box
Aukey Portable Bluetooth 3.0 Audio Receiver device
3.5mm -> 3.5mm audio cable
3.5mm -> 3.5mm metal connector (to hang off the back of a device)
Instruction manual
Plastic
In use
The Aukey Portable Bluetooth 3.0 Audio Receiver works like most Bluetooth 3 audio devices I've used do. You pair with a device, it attempts to pair with the last paired device. You can pair up to two devices to the thing although I did not attempt that.
Audio out I think is probably about perfect. I can't really tell with the microphone as my cell phone connection borders on abysmal, I've also gotten past thinking that was all that useful of a feature so I don't bother testing this out too much.
The actual device is small enough to be worn comfortably inline with your favorite headsets, although they did not include a way to attach it to clothing. It's small enough that I guess it doesn't matter, but it would have been nice to see it come with a clip. It's a little bit off being sleek and inline due to the headset jack being where my pinky is in the pictures above. This means it dangles oddly when plugged into a set of headphones.
Supposedly the battery life is between five and six hours. I didn't pay attention to when it ran out of charge either of the times I was doing a test to the death (sorry, I had a server malfunction and spent Thanksgiving+weekend rebuilding after an 8-drive RAID crash that's completely unrelated,) it lasted at least three hours on each trial.
Thoughts
I'm tempted to put that it's the best Bluetooth to wired audio receiver I've ever tested, however I think it's the only one I've ever tested and as such I have little to compare it to. I think the audio may be perfectly represented from the Bluetooth side of things – what I mean by this is this sounds like my other BT headsets when I plug it into a wired headset, however it does not sound the same as when I plug the same headset into my phone.
This probably has to do with the amp built into the headset jack on my phone and nothing to do with the receiver, but it's worth a mention that it does sound a little off on my M8.
The metal connector I believe is there simply to hang the device off of a home stereo system without it dangling. I didn't see any documentation on what the half inch thing was for, and that's all it appears to be (an extremely short unbendable cable,) as such that's that.
Wrap-up
If you've got a need for a wireless to wired bridge, this does the job for up to six hours at a time. I can't find much to complain about other than the lack of a shirt clip for headphone action.
The Aukey Portable Bluetooth 3.0 Audio Receiver is available from Amazon for $14.99.