Getting married and using Google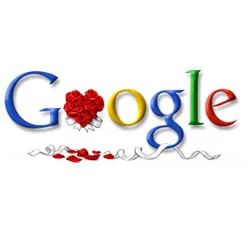 Those of you who have been around this blog for a while probably know that I use Google for practically everything: Gmail handles all of my incoming email from multiple accounts; Google Calendar and Google Now organize my life for me; Android and Chrome OS are my daily drivers; Google Play Music houses my entire music library; Google Drive backs up all of my files – and I could go on. So when my partner of seven years and I finally decided to get married, I thought it would be a great idea to see whether or not I could get everything wedding-related taken care of, using the same tools I had been using to take care of everything else in my life.
Short answer: Google worked beautifully.
Let me share with you exactly how I used Google to plan and celebrate my wedding.
Wedding announcements: Google Domains, Blogger, and Google Forms
When Ricki and I decided to announce our upcoming marriage to the world, we set up a website and registered the URL through Google Domains, which is currently in an invite-only beta. Once we bought the URL we wanted, we set up a wedding website using Blogger – not as an actual blog, mind you, but instead we used a cool Blogger template to basically create a landing page with basic info about the wedding. Guests who wanted to RSVP had to do so through a link to a Google Form, which put all of our guests into a convenient spreadsheet, housed in Google Drive.
Wedding programs: Google Docs
I wanted to design and print my own wedding program, rather than paying someone hundreds of dollars to do it for me. For this, I used Google Docs. It was relatively easy to create a program that would be folded in half by creating an invisible, two-column table, and then experimenting with the margins in and outside of the table. It only took a few minutes, and given Google's huge selection of fonts, it looked beautiful, too.
Streaming the wedding: Google Hangouts
Two of my dearest friends could not make it to the wedding due to distance and job obligations, and all of us were very sad about it until we realized that they could still attend the program virtually through Google Hangouts. All I would have to do would be to set up a laptop and webcam at the church, make sure the WiFi was decent, and invite them to the Hangout!
While setting it up, I decided to allow any of my other friends to view the Hangout, as well, but since Hangouts are restricted to 10 participants, I had to organize it as a Hangout On Air. This allowed me to stream the event to YouTube, and ended up working out really well. Not only could my friends watch from halfway across the country, but I now have a video record of the Hangout on my private YouTube page to watch anytime.
Music at the reception: Google Play Music All Access
What's a wedding without a wedding reception? And what's a wedding reception without music? In our never-ending quest to save money and do things ourselves, we decided to take the music into our own hands, crafting a playlist in Google Play Music All Access, downloading the playlist to an Android tablet, and using that with rented speakers during the wedding.
The results were fantastic – not only did we have a guarantee that only music we liked would be played, but it was also really easy to change the music up as we went along. Everything was downloaded for offline availability before the wedding started, so we didn't even have to rely on a flaky internet connection.
Overall, our wedding was a hit – Google's tools were reliable, easy to use, and allowed us to save a lot of money.