Jabra SPORT PULSE earbud/heart monitor review
The Jabra SPORT PULSE is a Bluetooth 4.0 in-ear stereo earbud set with pulse monitor and associated software so you can get your workout music and metrics done in one fewer device.
The left earbud functions as both an earbud and a heart monitor that transmits back to a BT4 low energy/Bluetooth Smart capable phone, the rest of the device functions pretty much like a standard headset, but it's important to note it's a very nice fitting and sounding headset.
While the Jabra SPORT PULSE comes with a license for the the Jabra SPORT Life application, you're not locked into using Jabra's fitness product and there are instructions on the website for others. The website mentions compatibility with Endomondo, Runkeeper, Strava and MapMyFitness in passing, but doesn't mention if that is a complete list or just a starter list.
Jabra SPORT PULSE specs
15dB passive noise reduction
Bluetooth 4.0. HP v1.2, HFP v1.6, A2DP v1.2, AVRCP v1.4
33 feet operating range
eight paired devices, two connected at one time
Talk/Music time five hours
Ten day standby time
6 mm dynamic speaker, 94dB SPL at 1 mW/1 kHz, 5 mW max imput
20 Hz-10kHz frequency range
Micro USB charging
IP55 certified
NFC or standard Bluetooth pairing
Jabra SPORT Life app
The Jabra SPORT app is available from Google Play or iTunes, although I have no BT 4 capable iDevices to play with, so I can't tell you if there's any difference between the two. It may change from time of this writing to when you download it, so I'm not covering too much of what it does.
The main features I found interesting in the app were the ability to select a player and a playlist, GPS tracking, and heart rate monitoring.
You can select several different players (I alternated mostly between Google Play Music and Amazon Prime,) and have your music start with your workout.
For a workout app, it hits the highlights of what you'd want – motion tracking, calorie counting, goals, readouts every x minutes or distance if you want them.
I'll confess on the workout side I got these for review and promptly was hit by sick baby, Thanksgiving, work disaster, a cold, two days of not being sick and then another sinus event. Not necessarily in that order. So my use has been pretty limited.
You can see more about the app and download it (on Android) at Google Play.
Jabra SPORT PULSE as headphones
While the pulse taking is neat and all, a purchase probably comes down to how good does it sound, and the Jabra SPORT PULSE sound pretty good.
One of the things I noticed were that these not only fit my ear canal, but straight out of the box they also "clicked" properly into my ear's concha ridge with their little rubber fitters. What this means is the earbud was properly positioned and secured and with the ear end fittings it created a seal.
The room's noise instantly dropped significantly as I now had completely occluded my ear canals. It lists at 15dB passive noise reduction, felt like a bit more but I don't have a way to measure that.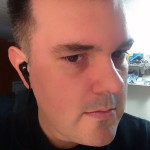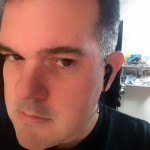 above: how the earbuds stick out, or don't
I ran these through a pretty wide variety of music with various DSP settings. They got loud, did the upper ranges perfectly, but the lower seemed to be what I have heard called BOSE bass – which is it sounded like what bass would, but didn't feel it. Not particularly a deal breaker as things sounded great otherwise, and I'm not entirely sure I've ever heard mighty bass out of anything other than over-the-ear.
What did really stick out is I listened for several hours at one sitting without taking the headphones out or adjusting them. They're by far the most comfortable in-ear headphones I've ever had, and I know I've said that a couple of times before, but it's true each time. They made some good ones.
I'll point out everyone's ear canals and ears are different, so your comfort level will probably vary.
I found though that the limited battery life of the headphones did become something I had to factor in. While I normally don't think of five hours as a deal breaker, these are something you're probably going to be using pretty hard. If you're exercising you're probably looking at two or three days of use. If you're planning a plane trip you're probably looking at the headphone dying as you're stuck in Denver International again.
The headphones are so light I'd rather have a little more weight and battery.
The Jabra SPORT PULSE comes with eight fitting options, these are four in-ear sets, and four sets of exterior ear hooks, for a total of 16 ways to fit them comfortably and snugly.
Jabra SPORT PULSE as exercise wear
I thought I must be missing something when I got these, and indeed I had as the mechanism to keep the cable from bouncing up and down on your neck while you jog was hidden in the parts baggie somehow perfectly wedged into the back of a larger earbud. Having gone through the parts list I found it mentioned, and finally found them. You'll want that if you don't want to hear some booming as you run and the cable bounces.
They don't get in your eyeline, are pretty easy to control via the control box, didn't have a problem keeping up with my pulse, stayed in my ear without being noticed as I looked around for cars coming to kill me, but didn't cut out so much of the noise that I had to take them out when talking to someone.
You eventually do notice these when running and blasting music, but they're pretty unobtrusive to at least the casual exerciser.
I didn't have any issue with the app getting my heart rate, I've read that some people do. My guess is these people either have no hearts, have a defective unit, or their phones are not picking up on the incoming signal. Actually, I have no idea – reading other reviews tends to indicate it just doesn't accurate measure heart rates for some people.
These were not quite as comfy after a while as the BlueBuds X, but then again those don't pick up heart rate.
Misc
If you've used a lot of Jabra products you'll note there's a new voice of Jabra telling you how to connect. My guess is there are a couple of words in a status update that were not recorded by previous voice talent, or perhaps the Jabra SPORT Life app uses that as a voice. I didn't pay attention, but the voice was a bit of a shock.
There are firmware updates for the Jabra SPORT PULSE that make it work better than some previously shipped units. Make sure you update your firmware when you get this unless it's already shipped with updated. It can mean the difference between a good phone experience and a bad one.
You can also take phone calls with the unit. My carrier is so awful for voice quality I don't bother to do these tests, but if you want to take a call while jogging you're able to.
The spec sheet says five hour battery life, the Amazon sheet says 4.5. I didn't test to see which one was correct.
Wrap-up
The Jabra SPORT PULSE was thoroughly enjoyable to play with, but as a consumer the price point at the moment makes me balk. The audio reproduction was not the best I've ever heard, but it was probably the best I've heard on something so compact and featured that fit so well.
I like it, if I were a serious exercise metric enthusiast this would be on my Christmas list.
The Jabra SPORT PULSE is currently available on Amazon for $199.