Recoil Automatic Cord Winders review
Recoil Automatic Cord Winders are various-sized devices to handle your ever-increasing collection of cables you find yourself lugging around with you on a daily basis.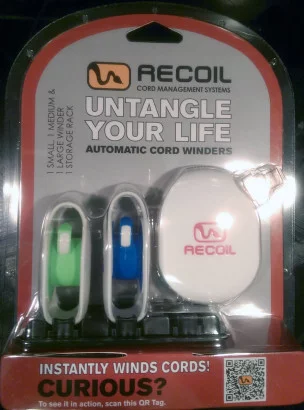 There are three sizes of Recoil Automatic Cord Winders: the small works well for headphones/earbuds, the medium is targeted toward USB cables and is slightly larger, and the large is listed as laptop chargers. It should be noted each of these is entirely dependant on cord length and thickness, so you might need a large for a headset and be able to get away with a small for a laptop. Your use will be dictated by the cable.
The recoil pack (pictured right) comes with a neat little stand for three of the winders, which is incredibly useful if you have a ton of cables attempting to strangle everything on your desk.
The video below demonstrates how the automatic winding makes putting away your cables incredibly easy. You just find half the cable, loop it over the hook, slightly pull and watch as your cords are neatly tucked away.
What it doesn't show is that it's a snap to undo them and you can easily reach in your pockets and get an untangled set of earbuds out whenever you need them.
The video also doesn't show your angst when you realize you don't have enough of these to handle every single cord and now you're becoming increasingly… cord-retentive.
The winders themselves can just be stashed in a pocket, attached to a carabiner, stowed on the included stand (if you purchase that option,) or bundled together like rolls of tape in an art department using a string of some sort.
They're pretty strong, but they do bend when I apply a lot of pressure. I'm not sure they'd survive falling on, although I did sit on one to see if it would break under my weight and it didn't (I am seasonally solid at the moment).
The winders come in three sizes and five colors that I see. I can't tell any difference between them other than the size and color. They work, they wind, they do what you thought they would.
It doesn't matter what size or how many, you're going to be paying about $6 a pop on them at the moment, which is 40% off due to Black Friday/Cyber Monday/Whatever Wednesday pricing. This is still a bit more than I'd want to pay for a piece of plastic with a winding mechanism in it, but I'm a cheapskate so your price point may be a bit different.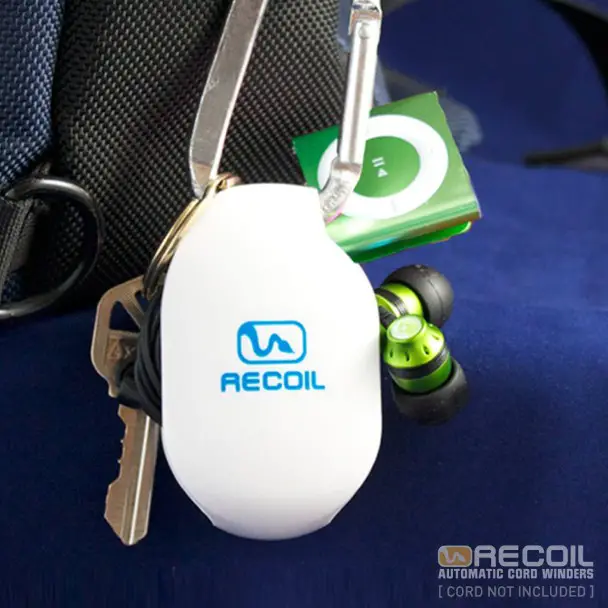 One thing to note on the winders is you'll either have them wound completely up, or completely unwound. There's no in-between that I've been able to get.
The Recoil Automatic Cord Winders are currently available for about $6 a piece from RecoilWinders.com as of this writing, they're also available on Amazon at the full price of $9.99. It's a great product; I just wish they were available more in the $3 per range.