T-Mobile announces data rollover, but don't call it that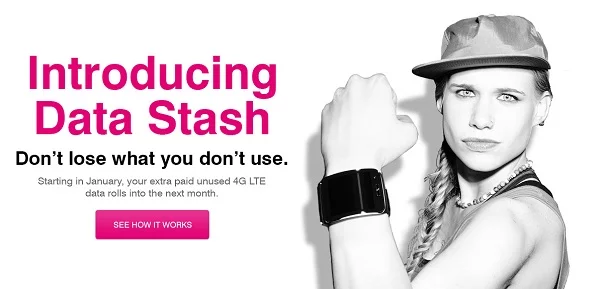 In T-Mobile's latest Uncarrier move, which came with almost no forewarning and not much fanfare, the carrier has announced "Data Stash" – essentially rollover for data. But don't call it that, because that used to be Cingular's thing, and then it was AT&T's thing, and T-Mobile thinks that AT&T never has good ideas.
In any case, T-Mobile CEO John Legere announced this earlier today in a Yahoo webcast, and said that this plan comes with no asterisks, even if there are quite a few limitations in reality. Some of these include:
Not all plans are eligible for data rollover. The carrier's entry-level 1GB plan is not eligible, and neither is T-Mobile's "Match Your Data" tablet plan.
Prepaid plans are not eligible for data rollover at this time, although T-Mobile says that will change soon.
While Legere said that the amount of data customers can accumulate is unlimited, there is in fact a one-year expiration date for data rollover. This means that the most data someone on a 3GB plan would be able to accumulate is 36GB – not quite unlimited.
While T-Mobile is starting eligible customers off with a 10GB data stash, data will not begin to rollover until that 10GB is used. This means customers will probably still lose unused data at the end of each month.
Tethering data does not rollover in unlimited plans.
In my opinion, this announcement was very underwhelming. While it might help T-Mobile sales reps upsell limited high speed data packages, the 20% of customers who already have unlimited won't benefit from this at all. It also won't benefit the people who need data rollover the most – those on the lowest plans (1GB or less). Could it be that this is simply a veiled attempt at getting customers to pay more, since many probably switched to lower data plans after hearing about unlimited music streaming?
While Uncarrier has generally been about changing pricing structures for all customers, and eliminating pain points, this does neither. A large segment of T-Mobile's subscribers are left out, and those who need this the most will have to pay more.
What do you think of Uncarrier 8.0?
[
T-Mobile
]