Best Buy Chromecast comes with $66 extras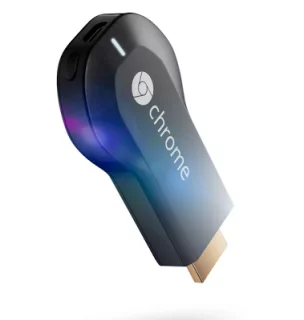 Best Buy is offering a deal where, if you order the Chromecast, it will throw in a $20 Google Play credit. This is in addition to $46 worth of content that already comes with the Chromecast stick (two months of Hulu Plus and three months of Google Play Music All Access).
The $20 Google Play credit portion of the deal appears to be a Best Buy exclusive, although you can get the $46 with any new purchase, and it's unclear if you're already a subscriber to either Google Play Music All Access or Hulu Plus whether these promotional items will follow through to your current accounts.
What is clear is that until the end of January you get a $20 credit and a $29.99 pricetag on the Chromecast so you're looking at an effective price of $10 + tax for a brand new Chromecast as long as you have designs on spending some of that Google Play store credit.
Whether this promotion is a signal of weakness in the Chromecast market as Gary Busey does his best to undermine them by advertising the Amazon Fire Stick, or this is Google's way of saying they're not with Busey, who knows.
Based on what I can determine on the Best Buy website, you can purchase there and do in-store pickup and receive the Google Play credit via email. You can also evidently get free shipping on the Chromecast and never even have to put on pants. It's unclear and probably unlikely that you can get the promo credit by walking into the store and purchasing directly from there – with or without pants.
The promotion goes through the end of January, so act now before Gary Busey destroys Google with his mind.
[
Best Buy
 via
Android Police
]