Disconnecting one Bluetooth device using Tasker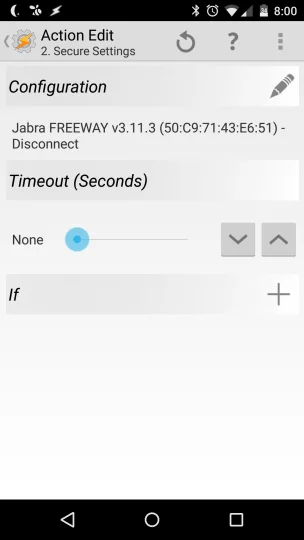 Something I've had happening a lot lately is blowing through my Bluetooth in-car speakerphone's battery in a day due to my phone not disconnecting when I go into work or my house. As audio is still playing and the connection is still established, the car speakerphone stays on, and unless someone calls and I notice there's no audio, chances are I'm going to blow through the battery without meaning to.
But I didn't want to just simply disable Bluetooth when I got into the house, as I've got household Bluetooth devices that I'm probably going to be using when I walk in the door and I also use some BT devices as Tasker triggers.
Tasker itself doesn't appear to contain any method to disconnect a single device so I contemplated simply disabling Bluetooth and waiting for a couple of minutes before turning it on to give my car Bluetooth device time to go into sleep mode, but I ran across a plugin that handles it perfectly called Secure Settings.
Old news to Tasker die-hards I'm sure, however I'm still spending some time finding problems and solving with Tasker, so bear with me.
Once Secure Settings is installed, create a task, add a plugin task, Secure Settings, actions, BT Connection, choose which device you're wanting to disconnect and done. Almost.
Of course you'll need to set up a profile. For me I disconnect when I hit home or work WiFi, and my day or two battery life has once again returned back to a few weeks, although I'm betting my cat misses hearing music from my car from whatever app I just assumed I had muted.
This can also be useful for disabling one Bluetooth connection when another presents itself.