Wonder what a 911 call on a rooted Android does?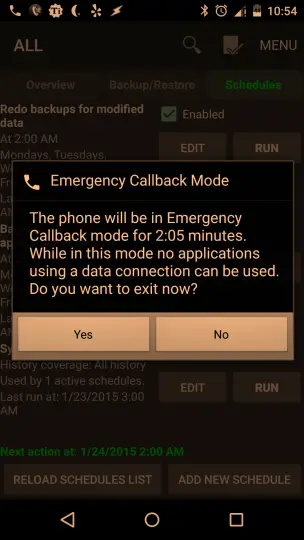 If you've dialed 911/emergency services in the past three or four years on an Android device, this is probably nothing you don't know. If you're wondering what exactly happens during a 911 call but don't feel like facing jail time for test calling 911, here you go:
It's Friday night, it's snowing, I'm getting ready to install a Sprint HTC One M8 Sense 6/Android Lollipop-based ROM on my phone – we'll get to that in another piece. I'd just started backing up using Titanium Backup when out in the distance I heard what sounded like two shots.
My phone was running a TB backup and had a lot of stuff to complete, eh. I listened for a second and there was another bang in the distance. My assumption at this point was that the nearest gas station was being robbed so it was 911 time.
I dialed emergency services, the data connection dropped as it was supposed to, talked to the 911 dispatcher – yes I'd heard the shots, no I didn't see anything, yes the last two times I called in it was robberies so I've gotten pretty good at telling gunshot from backfires.
During the call some evidently E911-reported data was relayed back to me – she already knew which streets were on either side of me and asked where the gunshot had come from and named both the streets.
The call was over, and now it was time to assess what had happened and wasn't driving or hopped up on adrenaline so I could take some screenshots.
My root application Titanium Backup kept running in the background with no obvious way to stop during the entire call, CF.Lumen (another root app,) kept the screen tinted while on an emergency call, most of my programs froze properly however. None of this was particularly scary or horrible, just mentioning it.
After the call, Emergency Callback Mode activated which disabled the phone for four or five minutes. TB kept chugging on backing up data, CF.Lumen kept the screen tinted, all my apps that require data claimed no data connection.
I was presented with the opportunity to disable the emergency callback mode, but I let the timer run out.
When the phone came back to a data connection TB was still going, 3G came back although I'd been on LTE when I made the call WiFi didn't auto reconnect but came back on by just tapping the network. Pretty sure in the past it's auto-reconnected, but who knows.
That's about it.
For reference, this was on a Sprint HTC One M8 running a Google Play Edition ROM. Basically the same thing happens on Sense and if I'm not mistaken most AOSP ROMs (although I do not recall that call too well as there was a flaming tire going down the road).
On a side note, I got the new ROM installed (while writing this,) and yes it works although I can't test out texting tonight which might not.