Evil Apples fails to stop party like Cards Against Humanity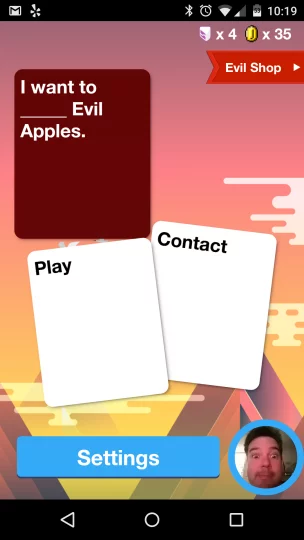 Taking a break for a minute from sorting through my CES 2015 pile and emails I was invited to play a Cards Against Humanity clone called Evil Apples, and so far I'm hooked. It brings all the snarkiness of the card game along with not having to be in the same room with the other players.
Evil Apples has the same premise as Cards Against Humanity, which is a much more adult and snarky version of Apples to Apples. Each round there's a rotating judge who plays a black card which will contain a statement like "66% of the time ____ works every time." Players will play one of their white cards in hopes that theirs is the funniest, best, or appeals most to what they know of the judge.
Unlike Cards Against Humanity, you don't have to (1) have a party with people over expecting chips and salsa, (2) stop the party, (3) explain to the one person who's never played how it's played, (4) deal with those two friends who feel the need waste two minutes per turn justifying each choice when they're the judge "well, considering that the source card is contradictory I think that Lance Armstrong might be amusing as that could also be a commentary on 'down there,' but then again 'unexpected reacharounds' can sometimes fail…"
Basically you can play when you want, where you want, and not stop a party to play a card game, although maybe you want to do that. Your call.
The app itself needs some work, but not so much as to be a deal breaker. The playing mechanism is nearly flawless, but inviting friends to a game can be a pain. There are links on the Android version to post to Facebook for you, and the iOS version you can simply click the link in the Facebook app and it launches fine. Unfortunately on the Android side you need to open Facebook in a browser, then click on the link from there and choose to open it in Evil Apples. This is probably because Facebook seems to have incorporated their own browser into the previously only horrifically bloated app, and it doesn't seem to handle unknown extensions that this uses – evilapples://gamenumber.
The game itself is about as fun as the CAH version, but conversation is a bit strained (scroll down to conversation area, click to type), and there's no easy way to just get all your friends together to play, although there are random matches you can join.
Unfortunately with the random matches you've got no idea what the judge might find funny, which takes away from why the card game is so freaking popular in the first place.
Overall though, it's the cross-platform app people have been asking for for a while at the games I've participated in (minus the matchmaking issues), and works pretty well when you want to play your friends on the other side of the planet (which I did last night). It contains extremely adult themes and humor, your mind needs to be in the gutter to play it, and like CAH you'll probably enjoy it based on how well you know the people and how many times you've played them.
It should be noted that you can still have a party and all whip out your cell phones and play together at a table if you want to stop the beautiful flow of communication between people who haven't seen each other in some time and subject them to a card game.
If this review seems negative to you, you may not be snarky enough to play. ;)
Download: Google Play