Lepow Poki 10,000 mAh power bank review
The Poki 10,000 mAh power bank is a different feel of charger than most with a design made to be pocketable and a capacity that makes your power-starved devices functional for far longer than you'd expect in something this small and light.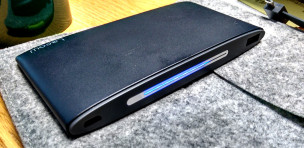 The TL;DR version of this review is: surprising light, extremely pocketable, does the job, not my dream charger but at the price it's well worth it.
We've covered a product of Lepow's before, the Moonstone. Like the Moonstone, the Poki comes with a cloth carrying case that you can stash a USB cable in (it appears to come with a 6″ USB-> MicroUSB,) or chuck your ID and credit card in and use it as a wallet while you're out. It's actually the first thing that stood out when I was looking at the device. The Moonstone is still going strong with a friend of mine a year later.
The battery delivers a 90% conversion efficiency rating according to specs on the manufacturer's website. Most batteries go from the high 70's to mid 80's. You want to see a higher number as this is how much power gets delivered with the rest being lost in conversion.
The Poki can charge and recharge at 2.1amps. This means you're not stuck for 20+ hours charging a 10,000mAh battery at 500mA. At 2.1 amp you should be able to charge this in under five hours and with 90% conversion efficiency you should have around 9000mAh of actual juice to spare. That should be enough for at least three complete charges from dead to full for any smartphone on the market today.
2.1 amp charging also means you're not going to spend ~7 hours charging a 3000mA phone from dead, more like an hour and a half if your phone supports it.charging that fast.
If you've got an M8, that's about 3.5 charges. iPhone 6 it can charge about five times in a row, a 6 Plus about three times, an iPad Air 2 evidently just over one full charge. It's a very useful little tool.
As a portable rechargeable battery it fails a couple of my "perfect battery" tests – these are it doesn't do something else neat (like include a flashlight,) doesn't have fold-out prongs to charge directly from a wall, and doesn't have built-in cables. It also blinks when you're charging it, however you can throw it in the carrying case and avoid nighttime light pollution. That said though it is the perfect size for throwing in my pocket and going somewhere with.
The Poki also includes a touch-sensitive power display. While it's neat it doesn't always register my touch, but it does the job. It sort of reminds me of KITT from Knight Rider, or a Cylon, but not quite so cool.
The Poki also has a 10-LED power indicator. While I haven't paid close enough attention to the battery as it drains, it does appear that it's calibrated at least somewhat close, unlike other batteries that stay on 4 (full,) and then drop to a blinking 1 about 12 seconds before the battery dies.
Did I mention it's light? Just under 8 ounces. It's the lightest bang for the buck I think I've played with.
The Poki 10,000 mAh portable charger claims to be 100% compatible with all USB-based devices for charging, so as long as you've got a charger cable, or can use the MicroUSB cable that's evidently included, you should be set with any device.
It's available in a couple of colors on Amazon (white and black,) but there's a much smaller mAh version of the Poki listed on the same page in different colors for slightly less, so be aware that they've linked the two products for some reason. It appears from the Lepow website that you can get a lime green Poki 10,000 but not on the Amazon page, which is where the manufacturer directs you.
The Poki 10,000 mAh has an MSRP of $79.99, but as most of those things go you can get it on Amazon for $30.99.