Sprint HTC One M8 Lollipop here via OTA/RUU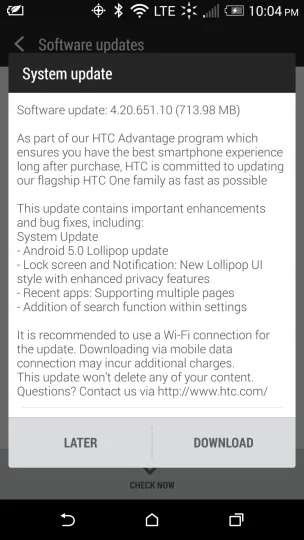 Although Sprint kept the HTC One M8 Lollipop upgrade in the lab for a few more days than expected, it's out now and you can get it either via OTA (by checking Settings > About phone > Software updates), or you can download an RUU, or get yourself a stock rooted ROM version of it.
The OTA went live about 10:00 p.m. CST last night based on the cries from the forums, clocking in a 713.98MB.
If you're on the Harmon Kardon edition, you're out of luck for a few more days, unless you want to do a conversion to a non-HK version. As the difference between the base HTC One M8 and the Harmon Kardon edition is pretty miniscule, chances are we'll see an update for that variant shortly.
The Lollipop update brings the software versions up to 4.20.651.10.
You can also flash the firmware separately if you're just needing to get a firmware update for a ROM you're already running. It should be noted that the firmware listed on the RUU page says 4.20.651.2 modified firmware when I'd expect it to have a .10 after it. I'm wondering if this is a typo, since the HK edition ends in .2, or if this is the actual firmware versioning info.
If you're waiting for your favorite ROM developer to get something out, well, they've now got the base in hand.
On the rumors front that have so far only been off by 12 hours, it looks like the Harmon Kardon edition is expected to be released on Friday if the lab is done with it.
If you're a little sketched out about downloading an RUU through the root channels, you can also download the RUU for the new update directly from Sprint. The RUU clocks in at 1.4GB, as it includes everything and is more than an update.
Unlike the push to the HTC One M7 last week, this is Android 5.0.1, not 5.0.2. There's not a lot of difference between the two (in other words, don't cry for the lack of the latest greatest version number), but it does show some efforts are not in sync at the HTC dev team.
However, if you're wanting to look at it in a different light, the M7 isn't going to have WiFi calling, and this is also most likely the M7's last major upgrade.
Anyway, enjoy, and let us know how the new update treats you – I'm stuck on my ROM through lunch today, but will try some of the new features out tonight.