Accell PowerGenius Rotating 6-outlet power strip review
The PowerGenius Rotating 6-Outlet Surge Protector with Dual USB Charging is the latest smart outlet style product from Accell aimed at letting you use every available plug, and removing your need for an outlet devoted to charging your phone and tablets.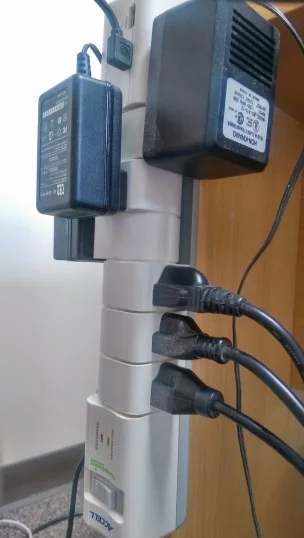 The main claim to fame of the PowerGenius Rotating 6-Outlet Surge Protector is that the outlets will swivel out to either side allowing you to place a plug at 90 or 180 degrees to the next plug. The way it's designed the plugs are only accessible at -90, 0, and +90, so if you 've got some need to have something at 45 degrees this probably won't work for you.
We've covered the Powramid, PowerSquid, GreenGenius, and some other products, all of which have found a forever home among my tangled mess of gadgets (the Powramid is powering my Raspberry Pi at the moment), so I jumped at the chance to try the PowerGenius against the plug nightmare that is my office.
Part of the problems being an IT guy officed in a room with four servers, nine mounted switches, three routers, three monitors, and a couple of computers are that you have a lot of things wanting a power outlet, and a lot of large adapters working to prevent you from using all the plugs on your power strip.
Using the PowerGenius I was able to consolidate a 7-plug and 6-plug strip into rotating PowerGenius strip. The three large adapter blocks I had to use now fitting in adjoining power outlets as opposed to requiring a strip devoted to them. The power for  my monitors and computer in the remaining spots.
Roughly 60 square inches of space was freed up for me, however I'll note that I had a very large early 2000's computer power strip that was removed from the equation. I'd guess the average freed space in this scenario would be more along the lines of 20 square inches or so with the removal of another strip. That's not including the 3-6 feet of power cord on it.
For those who have an outlet devoted to a phone charger there are two built-in 2.4 amp USB ports. Unfortunately this power is shared between the two so you're not going to be able to charge two tablets at full speed, you will however be able to charge two average phones at full speed, or one device at 2.4 amps.
The PowerGenius comes with 1080 Joules of surge protection, surge capacity detection, X3 MOV Fireproof Technology, proper ground indicator light, a noise reduction filter for clean power, and six rotating outlets.
If you're dealing with multiple power strips to power an area because of large clunky adapter blocks, or just looking for an outlet you know you'll be able to use all the plugs on, the PowerGenius Rotating 6-Outlet surge protector is pretty sweet.
If it wasn't for the shared USB power, I'd say it's probably just about perfect.
There are a few PowerGenius products, but only the four and six-outlet versions include rotating plugs and USB charging. Neither of the rotating variety appear to be on Amazon in case you're wondering.
The PowerGenius Rotating 6-Outlet Surge Protector with Dual USB Charging is available from Accell for $29.99.