Exclusive: Google is working on a new VPN service for use on open WiFi networks
One of the most interesting items I noticed while digging around in Android 5.1 on my Google Nexus 6 by Motorola was a new system application called "Google Connectivity Services." To find this app, just navigate to Settings > Apps > All, scroll down, and there it is: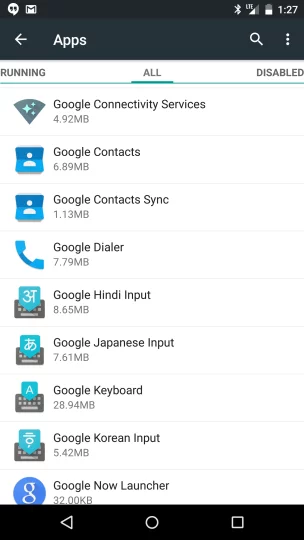 It is possible to launch this app, but it takes even more digging. You need to actually launch this activity:
com.google.android.apps.gcs/com.google.android.apps.gcs.WifiAssistantOptInActivity
To do so, I employed the app QuickShortcutMaker (everyone should have that app installed – seriously). Using QuickShortcutMaker, I placed a shortcut to Google Connectivity Services on my homescreen and launched the app from there. I was greeted with a screen that read, "To help protect you on open Wi-Fi networks, your data will be transmitted securely through a Google VPN."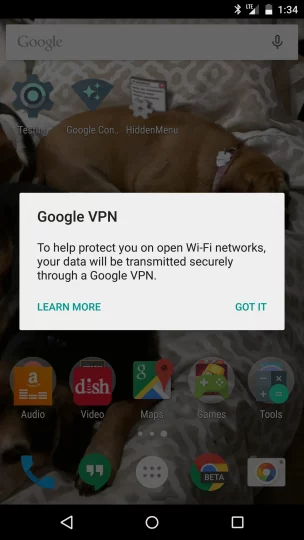 Clicking the "Learn more" button takes you to this link, which currently redirects to a standard Google support page:
https://support.google.com/mobile/?p=google_settings_VPN
Clicking "Got it" takes you to the standard VPN connection request screen: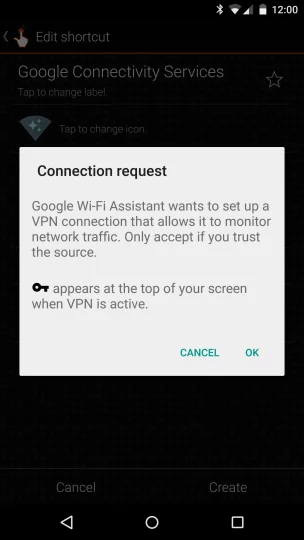 Unfortunately, I wasn't able to actually connect to any VPN, using an open WiFi network, a secured WiFi network, or LTE. It's unclear when Google will launch this feature, whether it will be open to everyone or just certain types of users, or if Google might discontinue it, like it did with App Opps.
It's even possible that this could be something Google plans to launch with its upcoming wireless service. If Google intends to use Sprint, T-Mobile, and WiFi – and the rumors point to all three – then customers will need to know that their communications over open WiFi networks are secure.
In any case, this is definitely something I'll be keeping my eye on!
Edit by Paul:
After three months of very pro PureVPN comments below, I did searches on every name posting positively for them. While most profiles are private, searching "Their Name" + PureVPN showed they have an inordinate number of posts commenting about how great PureVPN is on various blogs. In some cases the number of comments with the word "PureVPN" was the same number of comments that Disqus showed their private profile had.
Just letting you know the people appear to be directed by someone to testify on PureVPN's behalf. I'd say it's probably PureVPN as someone claiming to be a community manager at PureVPN is commenting in the thread, but that tactic would be a good way to cast aspersions on another company (blatantly posting fake positive reviews)