Gmail updated, allows unified inbox, conversation view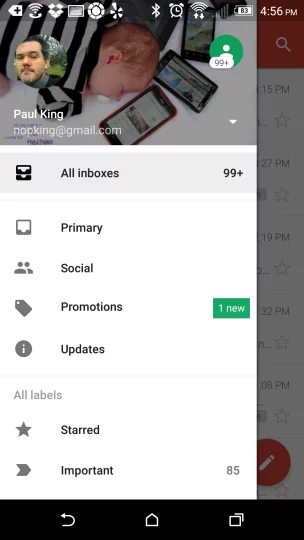 There's a new update to Gmail rolling out to the world today, although if you're impatient or constantly at the end of Google's list you can download a signed apk now. The new update to Gmail brings about a unified all-in-one inbox that includes conversation view for non-Gmail accounts.
The search functionality has also been rewritten to include autocomplete options from words found in your emails.
Additionally there are larger image previews and the ability to save to Google Drive with one tap.
In order to get conversation view working on non-Gmail accounts you'll need to go to Settings > General settings, and enable it. Conversation views are limited it appears to however many days you sync mail, so be aware that you may not be seeing the entire thread.
Android Police have posted a link to a signed apk if you want to install it now.
Due to the nature of Android's cryptographic signature, you know that a signed application that you already have installed is safe because it would take about 11 billion years to figure out the password.
If you're worried about applications you haven't installed, there could be danger there, but for upgrades that are rolling out generally you don't have to worry.
The new release Gmail up to version number 5.1.89745174, which I'm beginning to suspect is derived by the current Android version number and then someone banging their head into the numeric keypad.
Let us know if you find anything interesting or new in the new gmail. I got this pretty late in the day and have not had a chance to run through testing it today, but I can already tell I'm going to love the unified inbox.
[
Android Police
]