Quicklock NFC/Bluetooth Padlock review
If you've ever wanted a padlock that you can unlock via your phone or an NFC card/chip/ring, you're in luck as Quicklock has released an NFC and Bluetooth unlockable padlock.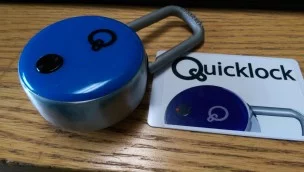 You can give friends, neighbors, etc access to your padlock and see who's accessed it and when, according to the documentation. This enables you to see who's been in your locker, or who stole your bike, as long as they left the lock sitting around, but it's not particularly damning evidence.
The lock isn't quite what I was hoping. You can't just walk up an unlock before you get to your bike by using your phone or swiping a card. You have to power the lock up (press a button), and then swipe an NFC or unlock via Bluetooth.
If you're using a smartphone, it can take up to four seconds for the lock to be found and unlocked from what I can tell. The review unit I was playing with didn't always register me pressing the button which slowed things down a bit more. I think the issue is that you have to just tap the button, pressing for more than a half second the lock ignores.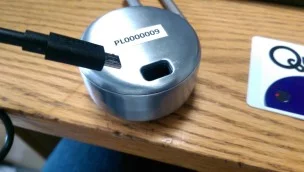 When I got this I shot the PR a question asking what happens when the power runs out. Evidently at that point the device remains locked until you bring a USB charger to it. So I decided to see if I could charge it using my portable USB chargers and the answer is kind of.
The only USB cable I had that would traverse the gap and the housing space for where the micro-USB connector is is the one they included with the padlock. I initially thought that the cable didn't fit due to the housing in the lock, but I was able to jam it in finally. There are marks on the plastic of the USB cable where I did this, but it's really hard to see in photos. Trust me, it was a tight fit and none of my other cables wanted to do it.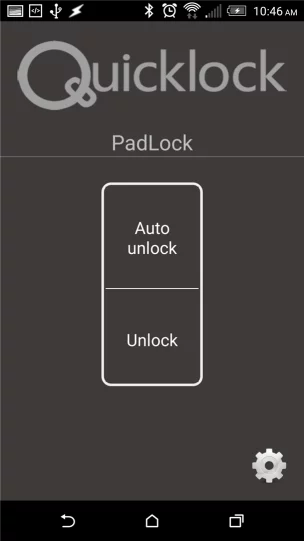 At the point I got it plugged in evidently it's charging. A red light appeared for a second and went off, the charger appeared to remain in charging mode but I don't know. During what I believe was charging the lock refused to accept unlock commands, which leads me to believe if the device's battery has died from sitting in the sun for a couple of years, you might have to get some bolt cutters to handle this.
The lock itself, I think it'll work for most purposes. It's a bit lighter than a padlock of the same size, feels slightly less hefty than a Masterlock of similar size, but it's easy to operate with a phone or the NFC card it comes with. You can also pair other NFC tags such as a ring or necklace tag for unlocking purposes if these are more your style.
The Android control application didn't appear to be in Google Play… either that or it was buried by applications named Quicklock this and Quicklock that.
There are some neat possibilities I can imagine they could put in future versions of the software with the existing hardware such as time-based one-time codes you can give to a neighbor to get in your shed for a lawnmower, or letting the owner verify an unlock request before it's done, but that's for the future.
I very much dig the concept of this, I'm ok with the execution, it's not quite for me and I'm good with that. It's a neat electronic padlock. Based on claims, it's the first and currently only padlock of this kind in the market. I see mention of others with a quick search that don't appear to be far behind in hitting the market however.
I'd love to take a baseball bat, bolt cutters, and car battery to the thing to see how it compares to a $29 padlock in terms of protection, unfortunately I have to return the thing intact
There are multiple bundles of the Quicklock Padlock available including bundles that come with rings, a cable caddy, a cable lock, but the base unit is in the $80 range. It's also available in many different colors if that's a sticking point for you.
The Quicklock Padlock reviewed here is currently available from the manufacturer for $79.