Deal alert: Get the LG G Watch for $80 and a Samsung Soundstand for $124, both from Target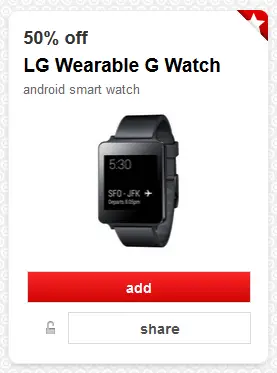 Target's got some great Cartwheel deals for tech lovers like you and me. To take full advantage of these, you have to be a Cartwheel user – this is a free app that allows you to add deals, pull up a barcode on your phone, have the cashier scan it at the end of your transaction, and sit back while your total gets reduced. Cartwheel deals are always in the form of percentages off (usually 5% or 10% off of commonly purchased items), but occasionally there are some bigger percentages.
In the case of these two deals I'm about to share, try 50% off.
LG G Watch: $79.50
The LG G Watch is normally priced at $229.99. It's on sale for $159 right now. Use this Cartwheel to save an additional 50%.
Total price after the Cartwheel: $79.50. Total savings: $150.49 (65%).
Samsung HW-H600 Soundstand: $121.49
The Samsung HW-H600, while not quite pocketable, is still an awesome piece of technology. It's a soundbar that is designed to go under your TV, with a built in subwoofer, and it normally retails for $449.99. Target sells it normally for $399.99. Price match this soundbar with the identical model at Best Buy, which is on sale for $242.99. Get an additional 50% off using this Cartwheel.
Total price after the Cartwhell: $121.49. Total savings: $328.50 (73%).
If you have a Target store credit card, you'll save an additional 5%, as well. You can download Cartwheel below.
Download: Google Play
[
Target
]