Inateck Bluetooth 4.0 LE USB adapter review
If you've got a lot of Bluetooth gadgets you use with your phone, chances are you've often wanted to use them with your computer as opposed to purchasing wired or mostly duplicate equipment. The Inateck Bluetooth 4.0 LE USB adapter can enable you to use your phone's gadgets, and even your smartphone, with your computer.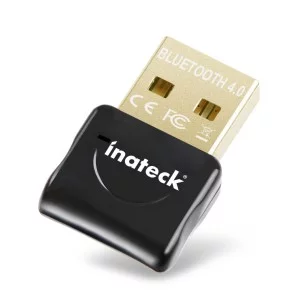 I purchased five Inateck USB Bluetooth 4.0 adapters for both home and work for various projects, so I got to see a few seemingly unrelated issues pop up with this.
The projects
My first project computer involved creating a timed baby radio station that would play on a Bluetooth speaker roughly 15 feet away. It also involved a bunch of Tasker experiments that didn't work out and a bunch of equipment, but that's another story.
I plugged the thing in, got device not recognized. I put in the driver disk and it told me the device wasn't plugged in. I deleted the device from device manager, went through the steps again, no dice. Went to the support forums, attempted to register to post a support request, and the forum signup page was down.
A couple of days later I got it fixed – it was a VIA chipset driver problem on my end. The support page eventually came back up and they're good now it appears.
The adapter works pretty well at punching through a floor of a house. It doesn't work particularly well at my house due to the plaster walls, chicken-wire-like mesh that was used to hold the plaster in place, and overall Faraday Cage-like effect this has, but it got  from my computer to a Bluetooth device in the baby's room and back (about 15 feet direct through a floor).
For extra fun I decided to pair a few speakers and play different music out of each of them. I got two working with no issues. I believe the issues I had with the third audio stream were mine and not the dongle.
Keep in mind if you're going to attempt to use mobile device Bluetooth with a Windows PC there're some extra steps you may have to go through to get Windows to properly recognize the device. For mine, I had to install a package called the CSR Bluetooth Device Driver to get most of my phone gadgets to work properly with the computer.
The second project I had was to simply Bluetooth a keyboard, mouse, and speakers. This was achieved with no incident and about five minutes of effort. Drivers installed, worked like a charm. Desk uncluttered.
The next install was the exact same build, brand, OS as the first computer, same issues, once again not the Inateck adapter's fault. Fixed it with an update.
Project number four was an interface with a Bluetooth Low Energy device that monitors ambient noise for signs of household alarms. While the project failed, it was not due to the adapter.
The fifth computer's project hasn't started. All I know is that the adapter plugged in and worked on it with no problem.
Observations
Before I started playing with Bluetooth on a desktop if you'd told me Bluetooth can be disturbed, interfered with, or otherwise disabled by WiFi, I'd have thought you were joking. I learned with a three-antenna TP-LINK Archer C7 that putting this near the Inateck Bluetooth adapter caused devices to disconnect randomly. Testing it further on a different system with Bluetooth built in, had the same issue.
So if you're having trouble with devices disconnecting, make sure the WiFi access point a few feet away first.
The adapter works best line of site. It works very well unobstructed. If it's on the other side of a computer it has to punch the signal through that.
Wrap up
It's inexpensive, it works with very little setup on most modern operating systems, and it gives you Bluetooth during the times you need it (such as if your home internet has gone down and you need to turn your phone into a PAN to provide internet to your computer) and can be yanked out and disabled when you don't.
The Inateck Bluetooth 4.0 LE USB adapter is available from Amazon for $9.99, and worth it.