Nixplay Edge 8-inch WiFi Digital Photo Frame review
The Nixplay Edge 8-inch WiFi Digital Photo Frame is a device that lets you display and manage pictures from other devices without the need to ever touch the frame again. This is the photo frame I wanted years ago when I got very disappointed in the choices that were out there.
It's a frame that looks like it was designed to purchase for your relatives, as you can update the photos from thousands of miles away and even allow people to email photos into the frame without giving them any change/delete permissions. My relatives however are not getting this frame, it's staying with me. My wife plans this as their Christmas gifts though.
With your frame account you can also define playlists, manage multiple frames, share playlists and photos between them, and otherwise do everything you would think a modern photo frame could do.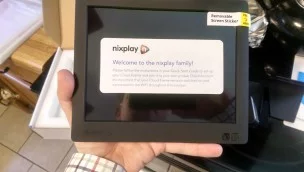 Besides playlists you have photo galleries that allow you to store specific pictures, and the playlists can play the entire galleries or simply a few pictures from it.
The only thing I dislike about this is the mobile application, which seems to be a universal agreement judging by the reviews. The mobile application is only good at defining email accounts that are authorized to send photos and sending photos via email. It's not really integrated very well. Luckily the browser site-site works wonders.
The Nixplay Edge comes with some nifty features such as the ability to detect when anyone's in the room, and predefined times that the frame is on.
From the admin page, which is accessed on a computer, you can connect a playlist to photos from your Dropbox, Instagram, Flickr, Picasa, and Facebook.
You can also put images and 720p video (I have not used the video functionality) on SD, SDHC, and USB, but as of yet I've had no reason to (although I will be playing with the video soon and update this).
The hardware and security side
The Nixplay Edge is a proprietary application sitting on an Android platform running on a dual core system with 512MB RAM and 4GB internal storage. On the display side it's 1024×768 24-bit color.
Data transmitted between the photo frame and the main site are encrypted with SSL, applications that are pushed to the Edge are digitally signed (presumably standard APK signing), and people attempting to sniff data or yank pictures shouldn't have any ability to do so.
The software updated a couple of times since I started playing with the frame, so evidently it gets updates on a fairly regular basis.
I asked about the movement detection, whether the device had a camera or microphone that could be hijacked by a malicious hacker and was told that it has no camera but not really given too much of an answer (another email into them). My belief is the two buttons you see on the frame may be see-through plastic for an IR transmitter and receiver.
As we're going to be mentioning the ability to email photos to the frame. You can, you limit it to addresses you want. They don't have access to the account. You can open the frame up so anyone can email to it, but I have a feeling that would be a very bad idea.
The application / website site
First you go to nixplay.com, then you create an account. I created one with an email specifically designed to look for spam. I haven't received even a "welcome to Nixplay," email so far, but I've only been using it a little while. if I start getting spam I'll update this.
Once you've created your account it will ask you to pair with the frame. The frame will be displaying four sets of four numbers. You enter those on your account, it talks to the frame, the website then ask you what the frame is saying. You look at the frame, see what word is displayed, type that into the account and bam. You're paired.
My guess is that it's pretty hard to accidentally pair with someone else's frame.
You'll be given an email address at mynixplay.com for people to email photos to you after you account is complete.
From here you have albums and playlists. To understand how this works an album contains a bunch of pictures, but the thing displayed on the frame is a playlist or multiple playlists. So create an album, drag it to a playlist, on that playlist associate it with a frame or two. Bam, your photos will display.
Items emailed into the frame appear in their own playlist, and if you don't like a photo that someone's emailed in you can delete it from the website interface.
The data usage side
So you've got this 10gb backed storage and a WiFi photo frame displaying one of your 4 megabyte photos every ten seconds, 24 megabytes a minute, 1440 megs an hour. You might be thinking that you're going to be going through 34 gigabytes of data usage a day and in about a week would hit that 250 gigabyte cap you've probably got per month with your cable provider.
Fear not. Well, at least if my answers from the manufacturer are correct fear not.
The frame is 1024×768. Photos are optimized for the frame and downloaded scaled. The photos are small enough that even with 10gb of photo storage chances are that unless you're sending hundreds of thousands of highly optimized tiny photos, the 4gb in the photo frame will store all on first load.
As new photos appear in playlists they get downloaded and added. It's not instant, but within an hour you see these in rotation and I wasn't able to see the point at which the photo frame grabbed the photos.
For those interested, a 1024×768 photo at 24 bit depth is a little over two megabytes uncompressed, or about 75K compressed with a good compression algorithm. While your photos are stored on the cloud server in glorious full size, you're not pushing that data to the frame that can't display that level of depth.
Is this for Grandpa/Grandma?
Does G have high speed internet and WiFi available with the ability to scroll through a WiFi setup using a temperamental remote control and an on-screen keyboard and enter a password that may be asterixed out? If so yes, this is the frame.
I had issues typing using the remote control as it seems to have a fairly limited response area. I believe the frame comes with the ability to pair via button press, but I'm not at it at the moment.
If it boots up and can't connect it should still scroll through the pictures it's downloaded to local storage however. My bet is you could configure an access point in the settings before mailing it off, but this is not something I've played with.
So what's bad about this?
The phone apps are little more than frame email contact management apps. There's no good way to manage the frame from a mobile device that I've discovered. Even requesting a desktop site seems to return a very limited in ability Nixplay website.
This means remote management is mostly desktop. While I don't have a huge problem with that, it would be nice if I got a phone call that so and so accidentally sent in a ton of crappy pictures that I could remotely remove them right then from the phone.
As it stands when you go to Nixplay.com on any phone browser, there's no login.
The above are all correctable issues however, and hopefully will be soon.
Chances are if you're using a photo frame you're not a pixel junkie, but 1024×768 isn't that high of a resolution. It's fine for across the room, but if you're attempting to see a nose hair on a baby it's not going to cut it. I'd like to have seen 1200×1600 or so, but you know what, for everything else it does it looks pretty darn good.
Difficulty level 4.5
WiFi setup – difficulty non-touch screen using a remote
Sign up for cloud service, only works on a computer
Pairing requires frame near computer
Uploading hundreds of files requires a computer. App will only email, email's limited in size of data you can send.
Very little mobile support at the moment, do it from a computer
Room for improvement
It would be extremely nice if there were a Nixplay app that allowed me to use a standard tablet or mobile with their cloud service after I've purchased one of their photo frames.
The website seriously needs to embrace mobile.
The emailing photo security needs some options – at the moment it's everyone can email you a photo or only people who you define can email you a photo. There needs to be an anyone can email you option but then approve the sender by email afterward.
Panoramic photos don't display particularly well – at least in the panoramas I've been sent I get maybe the middle part of the photo shown. Would be nice if they update the display logic to pan around a bit before transition.
Limited to five frames managed on the website. Once you get one of these you're suddenly going to think that perhaps you could get one for everyone… and then you're done buying them photos… bwahahahaha
Misc notes
Photos I took of the Nixplay Edge displaying photos never lived up to the image I was seeing. I'm guessing this has to do a lot with the lighting where I was photographing it (a mix of LED and fluorescent bulbs), but I'm mentioning that there aren't photos of the display because they just didn't do it justice.
If you lose the remote there's a pad on the back of the frame that will get the job accomplished.
Should I get one?
Absolutely. It's a great little device. My wife is already planning to get this for her parents, and chances are some other relatives may be getting one of these soon enough. I never knew a review item was going to end up costing me so much.
When I'm looking at a school photo for a two-year-old costing $50 for one picture, and then we've got to get a $20 frame to put it in, and then I've got to destroy my plaster walls to put that frame up, I… you know what, it's worth it. It's VESA mounting by the way.
the Nixplay Edge comes in 8″ and 13″ versions which have different specs but the same website. There's also older models that are available for slightly less that you might want to consider that also use the same website it appears.
The Nixplay Edge 8″ WiFi Digital Photo Frame is available from Amazon for $129.99.