Rooting the HTC One M9, coming from the M8
This is my experience with rooting the HTC One M9 and getting my data on it from the One M8, this is not a how-to guide. I'll write up one of those later. This is a tale of a broken computer, charger, and a headache that oddly were not the fault of HTC as far as I can tell.
I've rooted a lot of devices now. It's an absurdly high number that sounds fake, mostly due to a gig I had with a hospital for cloning an Android deployment to 800+ devices, but I've also rooted and re-rooted the HTC EVO 4G, 3D, 4G LTE, One M8… rooting the M9 shouldn't have been a problem for me, but it was.
My computer, which has thrummed along like a champ with rooting Samsungs, Kindles, iPads (jailbreaking) iPhones, and a variety of mainly HTC products, won't recognize my M9.
After an hour and a half uninstalling and reinstalling every driver I could think of I still couldn't even mount the thing as a drive. I eventually gave up on the PC I use for everything and moved on to a laptop where I was able to continue.
This is my PCs issue, not HTCs unless there's some old HTC software still installed that I didn't find and erase. It works on my work machine with no issues, and it's the exact same hardware, OS, and software setup. Yes, I uninstalled and reinstalled HTC Sync and also a HTC drivers package.
I had a red herring thrown in as the charger that the phone was connected to died immediately before attempting to root it, but that was a charger that had been at the edge for a while and finally decided to enter the abyss it had been looking into.
Above: what it should look like when you plug in an M9
Unfortunately this is the work machine, not the home
So with the laptop in hand, ADB functioning, I went to HTCDev to look upon the unlock code for the M9 and it's not listed. Eh, their web dev just hasn't gotten to it, I chose "All Other Supported Models" and rebooted my phone into something that looked entirely different than I'm familiar with.
It's a bit different looking, you start in HTC Download Mode instead of at the HBoot prompt. Evidently Download Mode is the same as the Fastboot menu, but other than substituting Download Mode for Fastboot, and being defaulted into a different menu than what's shown on HTCDev, the unlock process was the same as the M8.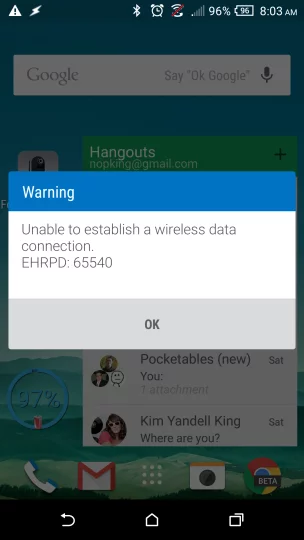 I grabbed a copy of Team Win's Recovery Project for the Hima (M9) from their site and used the fastboot command method to install it in download mode on the phone.
I wanted to run a stock rooted ROM for a bit, but the SuperSU binaries download was inaccessible yesterday so I wiped the phone and installed Bad Boyz ROM for the M9, which is what I was using on the M8.
I had the SD card from my M8 containing all my Titanium Backups, but the HTC transfer tool claimed it would move all my apps, emails, contacts, accounts over so I tried that first. Total waste of time as none of my paid apps reinstalled, and none of the data from any of the apps came with it.
I factory reset, installed Titanium Backup, realized it was not showing up as registered (I have a license key file on the external SD, evidently it doesn't bother checking there) copied the license to the internal storage, restarted Titanium and it recognized it. Checked Sync TB in settings, changed the path to my backups, restarted, and discovered all of my labels that allow me to do one-click restores were gone. Not the first time TB has lost my labels.
In a normal scenario an initial unlock, flash and restore takes me about 20 minutes. I lost track of how long this took. Everything seemed to be against me getting it working, including Sprint which decided to go almost completely out in the area shortly after I got a new ROM on the device leading me to assume the ROM was at fault until I noticed the wife's unrooted device had the same message.