Makeblock's mBot aims to have one robot per kid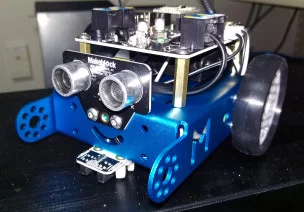 mBot is a learning tool/toy by a company called Makeblock that teaches you or your child programming basics, robotics, and using an Arduino board. It's the modern day equivalent of the 200-in-one kits that Radio Shack used to sell in store and you can still buy today evidently.
The idea behind the company's kickstarter was to get enough funding to make these little programmable robots in enough quantity that it can sell for $49, putting a valuable educational tool within reach of most of the world.
It needed $20,000 to make the dream happen, it got that in under a day. Then it doubled it. Then it doubled that. Then it doubled that. Before the campaign was ended the mBot had received $284,463 toward its $20,000 goal, and that put the mBot firmly into the realm of "probably going to reach that price point."
The base mBot unit  is an Arduino board, a couple of motors, a battery pack, chassis, lots of screws, some telephone cords (RJ11), and some wheels.
 
Above: unboxing the mBot
While I haven't had a lot of time to play with the mBot yet, mostly due to forgetting to bring in batteries or work popping up, I did film a couple of videos if you're interested in seeing what's in the box and how to assemble this little marvel.
I'll be doing some follow up with the base unit (pictured here) later on and see just how good this thing is as an educational tool. In the meantime should you be wondering how difficult this thing is to assemble, it takes about 20 minutes if you're attempting to film it.
The following is the assembly, divided up into four videos because it was recorded in 4K and as such the max file size allowed for slightly over six minutes of recording at a pop. You don't see anything other than me assembling the thing and perhaps lamenting at the documentation or lack thereof about putting in the telephone cords before you go to the next step.
I also may have discovered a YouTube bug that when you rotate a 4K video (the first one,) it appears to go to 1080p, so don't expect that one to be super high res. Then again I guess it could be processing still, a day later.
I'll have some followup and what this thing is actually capable of doing shortly hopefully.
While you can't get the mBot for $49 yet, you can purchase one for about $30 more. My guess is it's going to take them a little bit in order to get up and running at the point where they can drop prices. significantly. You can get an mBot at Makeblock's website, or wait a bit till the price drops.