Omaker M4 Splashproof Bluetooth 4.0 Speaker review
The Omaker M4 is portable rechargeable Bluetooth 4.0 speaker with about 12 hours of play time and extremely easy NFC pairing It comes with all your standards of a bluetooth speaker these days including speakerphone, an incredibly badly translated instruction manual, and the ability to get it wet.
Pairing is a breeze with NFC, you just tap your phone to the back of the Omaker M4 and say yes when it pops up on your screen with Pair New Device, or you can search via the old school Bluetooth pairing model and pair with a passcode of 0000 if it actually asks for one. Although my phone failed to pair on the first try, it got it on the second, which took all of about five seconds of my time and two taps to pair.
I wasn't particularly impressed with the bass when this thing is cranked. It sort of pootz out before going blatz (years working with one of the premiere audio sweetening studios in Nashville have taught me this technical jargon) – basically it pulls back before it makes sounds it can't make.
For the size of the unit, we're looking at about as loud as I've seen in a portable speaker, but it's not going to drive an impromptu house party, more like provide a really nice sound experience for a small campout.
It carries an IP54 rating, which means it can get wet but it's not what you would consider waterproof. Good enough for a shower, not safe for a bath. Probably don't need to defend it against the elements or worry if it gets caught in the rain, but don't fjord a river with it.
The audio sounded really good at lower volumes. This is a great personal speaker, but it just didn't have the oomf at higher volumes, which considering a 12 hour life on a three watt speaker with a 1500mAh battery you can understand why.
This is one of the few speakerphone capable devices I've bothered testing the speakerphone with (did this since they don't have a mic listed in the items list). In the past I haven't had a reliable phone connection, but that's changed now due to being able to call out using my internet connection at the office. The M4 sounds decent, little bit muffled, but I don't have a really great way to test the mic on this other than just saying something and listening a fifth of a second later.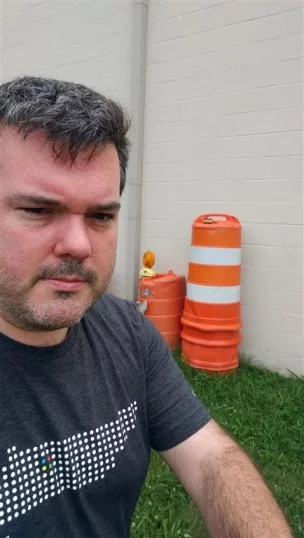 The Omaker M4 seems to fail at delivering the 10M advertised Bluetooth range, at least mine did. At roughly 10 feet the unit started dropping Bluetooth packets. I tried reorienting the unit, flipping it over, moving my phone about, etc. In all cases I was having issues. Whether you have the same, I do not know. Unfortunately not at a place I can test out multiple Bluetooth devices distance measurements.
In the picture on the right, the Omaker M4 is on top of the right cones, and it's blurping on the audio. I didn't have a measuring tape with me but that was about 10-12 feet out.
The Omaker M4 has some multifunction buttons, but they're only labeled as to what their first function is. Also, not a huge issue if you just know long press vol down is also last track, vol up next track, etc.
You can also skip bluetooth and plug in a headphone plug (included) directly to save some battery life on both ends spent encoding and decoding Bluetooth packets.
The instruction manual is fairly useless except to gather some specs. Direct translation errors such as "Horn (a pilot light inside)," and "whatsoever mode" tend to make the thing a bit of a pain if you need to read through it. Fortunately it's pretty easy if you've ever owned a Bluetooth speaker before.
Overall the device functioned well, seems to do what it was made for unless you need to be 30 feet away from the speaker, and I'd have no problem saying it is a slightly above average speaker. What I started wondering at was why it's a 4.5 star rated speaker on Amazon with 800+ ratings. It's good, but it's not that good.
That was answered when I found the Power Users Program card. Long story short, post a review on Amazon, get free/pre release items/discount codes. These sort of programs tend to garner amazeballs Amazon reviews as even if people think it's a good little speaker (which it really is), they'll pump it up a star to claim it's amazing in hopes of getting something free down the road.
I have a problem with these programs. It encourages lying through your teeth to get free stuff.
But, besides that bit of unpleasantness, it's a pretty good speaker, I don't think you'll be disappointed with it.
The Omaker M4 Bluetooth 4.0 Speaker with NFC is available from Amazon for $34.99.