There's a serious problem with WiFi calling on the Nexus 6 with T-Mobile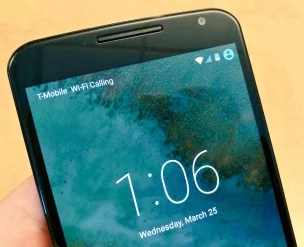 I've had WiFi calling enabled on my Google Nexus 6 by Motorola for a solid two weeks now. At first, it was working really great. But now, it seems like it won't stop disconnecting after 24-48 hours.
I've tried enabling it and disabling it. I've tried toggling between WiFi preferred and cellular preferred. I've even tried factory resetting. No matter what I do, WiFi calling will disconnect eventually, and the only way to get it back is to reboot the whole damn phone – it's not enough just to toggle WiFi or the mobile radio on and off.
I'm not sure what the deal is, but it's getting annoying having to reboot my phone every so often, just to stay connected to WiFi calling. And it's something I hope Google and T-Mobile will fix soon.
The one thing I've found that seems to help a little is keeping the WiFi radio on all the time. Previously, I had an app set up to turn off WiFi when I'm not at work or at home. I noticed that WiFi calling would disconnect much more frequently whenever I would turn the radio back on. Keeping WiFi on all the time seems to help keep me connected for a few hours later … or it's just a placebo affect.
What about you? What's your experience been like with WiFi calling on the Nexus 6?