Winnergear's Montar Universal Car Mount review
The Montar Universal Car Mount by Winnergear will hold your phone. Got an iPhone? It'll hold it. A Nokia Flip Phone? Probably hold that as well. An HTC EVO 4G LTE? It'll hold two of them. Does it fit in your hand? It's probably gonna hold it. It claims it fits phones with up to 6″ screens.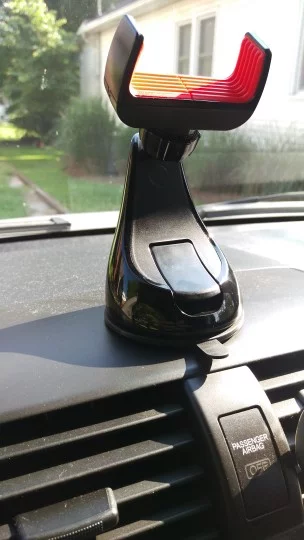 Basically if you've got a reason to mount a phone in a car and don't care about device specific tailored car mounts, it'll hold it.
The suction cup has a lever that makes it stick extremely well and releases fairly easily, and you can put your phone in using one hand if you've got the skills. They claim it's the world's strongest suction cup on their website, I may have to put that to the test later. There's also an adhesive pad if you want to dash mount it and it doesn't stick well.
What's the coolest thing about this mount to me, and I've tested many many a car mount now, is that it leaves the camera completely uncovered. This means should you want to take video of yourself driving, or the road, all the cameras are free and not obstructed by the car mount, unless you mount it incorrectly, and then that's on you.
The Montar simply clamps down on your phone with some rubber grippy things. It uses enough force to press a button if you happen to place one in its path, but not enough force to really fight you if you attempt to remove it.
The claw grip can be rotated 360 degrees, and it tilts at least 90 degrees. After you get it where you want it there's a ring you can tighten to make it stay. Basically you should be able to angle it like you want it in your car and have it hold your phone without dropping it.
A side note on the packaging photos – it came from Amazon, perfectly packaged, box undamaged, but the item box was crushed. It was odd.
It should be noted that this does not come with a charger. As such the pricing on it feels kind of steep, but it also isn't a piece of garbage the instant the proprietary charge cable breaks that fed the unit power, so there's that.
I'd like to see the price at about half of what it's at, but I'm willing to let go of my tightwad ways and say it's still a pretty darn nice toy for the price.
Oh yeah, here's a boring driving video I shot (sadly in portrait aspect, sorry about that) – nothing interesting happens as a note. Feel free to watch for the entire video but I'm pretty sure there's no payoff other than to see that the phone doesn't fall during slight bumping.
The Montar Universal Car Mount is available from Winnergear and Amazon for $29.99.