Google shuts down the Google+ Photos app a bit early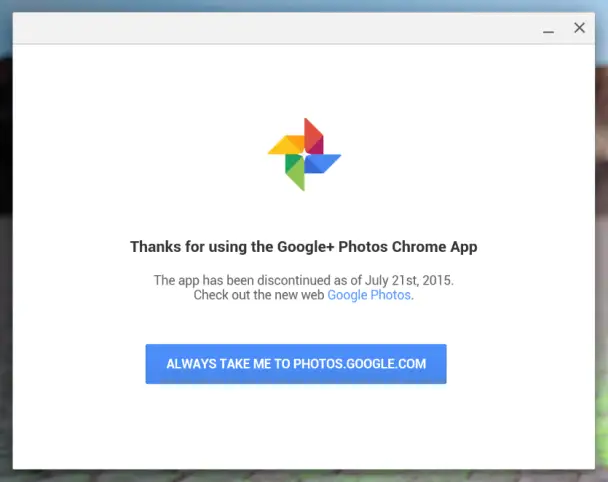 It was only yesterday that we gave you a reminder that Google+ Photos is going away for good on August 1. But it seems like Google jumped the gun, and decided to decommission its Google+ Photos app for Chrome a bit early.
Users who attempt to open the Chrome app on the desktop or laptop devices are greeted with the screen above, inviting users to go to Google Photos on the web, instead.
As Google+ user Craig Tumblison explains:
If you are missing the automatic backup functionality that this app provided [in Chrome OS], you may want to check out the Cloud Import feature built into the Chrome OS Files app. Please note that backing up photos using this feature will count against your Drive storage, regardless of your Google Photos upload settings.
Windows or Apple users, on the other hand, can download the Google Photos app for Windows or OS X to regain auto-backup functionality, with the option to not burn through your storage.