Kickstarter spotlight: Silent Pocket signal blocker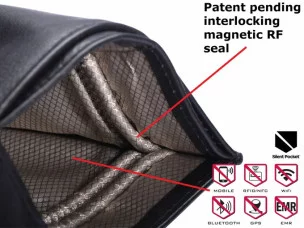 Silent Pocket is a Kickstarter campaign for an RFID/Wireless/Cell/tracking blocker for your phone, iPad, or any other device that communicates wirelessly. It's manufactured with a leather exterior and a couple of pockets for on the grid and a now incorrectly named out of pocket (using the business unreachable, not expense definition here) carrying.
The Silent Pocket claims to block mobile, RFID/NFC, WiFi. Bluetooth, GPS, and EMR (electromagnetic radiation). I was sent a Full Shielding Sleeve, and decided to put that to the test.
As I don't have an EMR meter, I can't speak to that, and as the Silent Pocket is thicker than the distance required to trigger NFC, I also can't say for sure that worked, but here are the tests I did:
I placed a call from a landline to the cell phone (on Sprint), verified that I could hear noises properly, put the phone into the pocket, the call was dropped. Repeat this a couple of times, occasionally hearing crazy artifacting.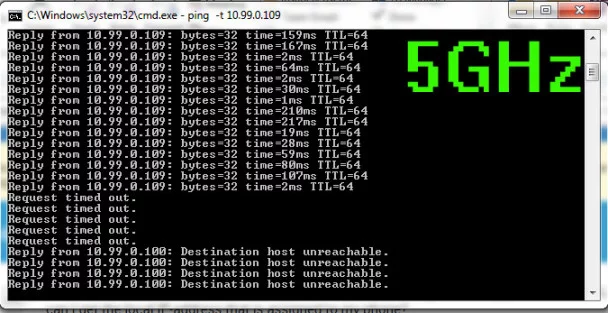 For the WiFi test I connected to a 5GHz access point about 12 feet away from me. From a computer I started pinging the IP address the Android phone had picked up. The instant the phone went in the Silent Pocket the pings were dead. Upon removing from the Pocket there was a little time spent where the WiFi had to reconnect, but it was up and pinging in about 20 seconds.
Repeat for a 2.4GHz connection, same results.
GPS nets me a signal lost on a fine-position GPS lock. Judging by other reviews, it works perfectly at blocking all GPS. I can't really test out Stinger and IMSI catchers, but I'd say it's a pretty safe bet.
I guess if you're being tracked via an app your employer gives you, this is a big middle finger to said app, but in that case I would think the employer would be annoyed at your using the Silent Pocket to block tracking. I guess it could be used if you're in the middle of a messy divorce and suspect your phone is being tracked.
They list their GPS tracking as blocking 1-2GHz location services, GPS tracking, Stingray, IMSI catchers. There is evidently more about GPS tracking than I have researched.
There are several Silent Pocket styles they're attempting to get out there including a carryall clutch, an iPhone fold-over wallet, a simple RFID/NFC passport pocket, and the full shielding sleeves which I tested.
According to the FAQ most phones when placed into the pocket end up in stand by/dormant as there are no signals for the phone to attempt to grab whereas if the signal were just weak it would fight to be heard. So it doesn't appear that this will be a battery nightmare. I didn't see any drain over an hour of it being in the Silent Pocket, however that's not entirely abnormal with my phone.
It's an interesting product that will help protect your device, but after that I do wonder what the use is for most people to have a cell phone or tablet to be on and blocked via a somewhat costly product as opposed to being simply turned off and protected by a nice case? I guess if you're paranoid about being tracked by law enforcement, soon to be exes, detectives, or spy agencies it's a must.
Silent Pocket needs $25,000 to be funded and is currently at $7,508 as of this writing with 22 days to go. If you're interested in making the world a less trackable and fairly fashionable place, you might be interested in seeing this funded.
[
Kickstarter
]