Sprint Spark is now available in 39 markets across the US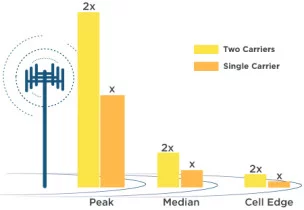 Sprint's band 41 carrier aggregation (also known as Spark) is now active in 39 markets across the US, according to a leaked internal Sprint announcement that made its way to Reddit and S4GRU.
If you remember, Spark was initially confined to a few test markets like Chicago, Atlanta, Detroit, and Houston, although it's been slowly expanding since.
Here is the full list of available cities:
Boston
New Jersey
Long Island
Philadelphia Metro
Providence
Southern Connecticut
Baltimore
Cincinnati
Columbus
East Michigan
West Michigan
Indianapolis
Washington DC
Austin
Dallas Fort Worth
Houston
Kansas
Missouri
San Antonia
Atlanta / Athens
Miami / West Palm
Orlando
South West Florida
Tampa
Chicago
Colorado
Milwaukee
Minnesota
Oregon / SW Washington
West Washington
Utah
LA Metro
Las Vegas
North LA
Orange County
Riverside / San Bernardino
San Diego
SF Bay
South Bay
These are the devices that are currently compatible with Sprint Spark:
Samsung Galaxy S6
Samsung Galaxy S6 Edge
Samsung Galaxy Note Edge
LG G Flex 2
LG G4
HTC One M9
Google Nexus 6 by Motorola
ZTE Hot Spot
This means that, if you have one of these devices in one of these markets, then maybe – just maybe – you'll experience higher LTE data speeds and less congestion. And as all Sprint customers understand, that's a very, very good thing.
[
S4GRU
]