T-Mobile Uncarrier Amped, part 3: New family plans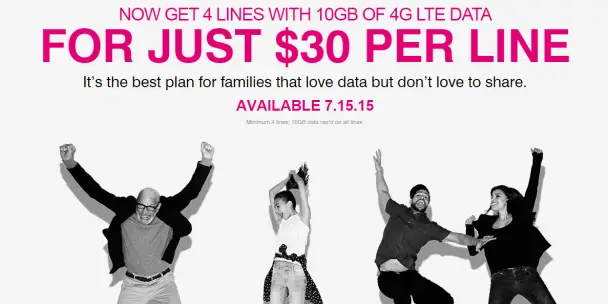 T-Mobile's next Uncarrier Amped move was announced earlier this morning, and for the sake of this article, I'm just going to label this the carrier's third Amped announcement.
For a limited time, T-Mobile will offer a new family plan that gives each line 10GB of data, for as low as $30 per line. The promotional plan will cost $100 for two lines, and $20 for each additional line. And if you get in on this before Labor Day, the carrier will throw in the fourth line for free, with no expiration.
This means it will be possible to have four lines with 10GB of data each for $120 total, or only $30 per line. Each line can also double its data, and get 20GB total, for only $10 extra each month. Compared to T-Mobile's current data buckets, and compared to other plans at AT&T and Verizon, this is very competitive.
According to T-Mobile, this plan will be eligible for all Uncarrier benefits, including Data Stash, Mobile Without Borders, and Music Freedom. Are you going to switch?
[
T-Mobile
]