iClever Universal USB Turbo Charger review
I've mentioned before that you need a better charger, and if you're still looking around there's one that I don't think you can go too wrong with. It's the iClever Turbo Charger with Qualcomm Quick Charge 2.0 capabilities.
So far, according to Battery Monitor Widget and my HTC One M9, this consistently is the fastest QC 2.0 charger I have. It's backed by 18 watts of juice and the ability to charge at 5, 9, and 12 volt output rates for both standard 2amp USB charging and Qualcomm Quick Charge 2.0.
With the charger in place, and the cable provided, the green light kicked on indicating 9/12 volt output (QC2.0 spec) and I watched as my phone claimed to be charging at +2389mA for about 20 minutes before settling into a +1860mA charge for the remainder of what I had it on for (at least 20 minutes).
There are many factors that can influence why my other chargers don't seem to charge as consistently as this one, including a recent firmware update to my phone, but at the moment this one rules.
So what's wrong with it?
First off, included is one of those "give us 5-stars, we might give you something" cards. It encourages people to give a 5-star rating with the promise of cheap or free stuff later. I consider this to be a bit of a turn off. That said, I got the thing free to begin with and I'll probably get more review units in the future even if I do speak badly of it. I just really like this charger.
Next up is the reviews. Somehow the Quick Charge 2.0 spec charger and a dual charger have combined reviews on Amazon. Not sure whose fault this is, but what I'm reviewing and linking to has one charge port, you can charge one phone device, several reviews are for the dual-port non-QC charger.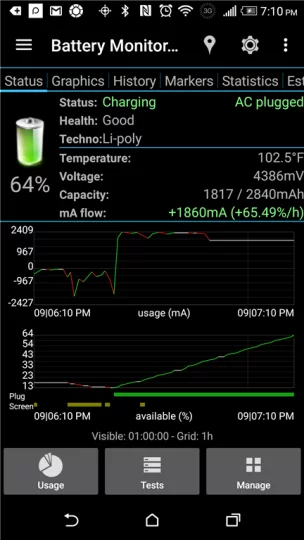 You might wonder why I mention this as it's Amazon… because it's their product page maintained by Hisgadget/iClever. Leads to more feeling like these reviews are being stuffed in, even if the charger really is a great piece of work. It is. I'm not being bribed by the promise of $20 of product later on.
Finally the charger base is just a bit too wide. In plug situations like are pictured here, it takes out the plug next to it. This is not a particularly standard plug setup in the US, but it does occur. the unit feels like it's full of space also, I think they could make it not a space hog.
Overall
Best price per mAh I've seen. Works. Little bit of dirty pool with the review program, but otherwise a good product.
The iClever Universal USB Turbo Charger is available from Amazon for $13.99.