Amazon releases several low-cost tablets
On September 30th, Amazon will be flooding the market with low-priced Amazon-centric tablets priced from $49.99-$229.99.
The Amazon Fire 7″ at $49.99 and the Amazon Fire Kids Tablet ($99.99) appear to be the same quad-core 1.3GHz tablets with 720P and VGA cameras and 8GB of internal storage with a 128GB capable MicroSD expansion slot. With a resolution of 1024×600 it's something to sneeze at if you're a pixel snob (I am,) but it's a solid looking tablet. It has mono sound and single band B/G/N WiFi.
The Amazon Fire Kids Tablet comes with child armor and a two-year replacement guarantee that if your kid breaks it they'll fix it.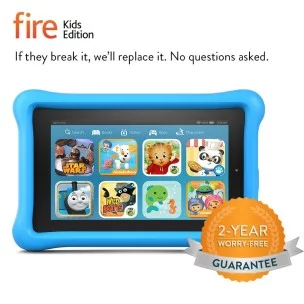 The Fire HD8 comes in at $149.99, an 8″ 1280×800 display (better,) quad 1.5GHz system, 5MP rear facing camera, and a front-facing camera they list as 720p. It comes with either 8GB of storage at $149.99, or 16GB internal storage for $169.99.
The HD8 also includes Dolby Audio with dual stereo speakers.
The Fire HD 10 starts at $229.99 and has a 10.1″ display which is also at 1280×800, all the specs appear the same as the HD8 except size, weight, and the starting internal storage is 16 but you can upgrade to 32.
All of the Fire tablets come with Fire OS 5 "Bellini" which is a derivative of Android. They ship so that you're locked into the Amazon ecosystem, so be aware that things that require Google Play Services may never be supported.
Then again, if you're looking for a pure Android tablet, these will probably be rootable shortly after launch so I expect to see a method to get Google Play and Play Services on there soon enough.
The only one of the tablets I'm interested in is the Fire Kids Tablet, I've got one preordered. The Fire HD 10 looks like it will be a pretty nice little beast, but I'll have to have hands on to determine if they did it right or not.
I think their kid and 7″ tablet are probably going to be the winners of this particular set of offerings.