TYLT FLYP-DUO reversible USB to MicroUSB/Lightning review
If you need to connect a computer to an iPhone, Android, or most modern tablets, the TYLT FLYP-DUO reversible USB cable has you covered.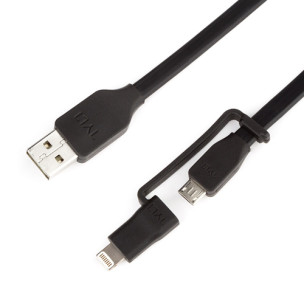 While we've covered a similar TYLT product before, this one adds in a USB plug that can get you around the USB Superposition (see below), which requires you to observe the end of the cable before it will actually plug in.
Filed under US patent 7717717 is the User-friendly USB connector which allows you to plug in the cable in either direction. This is quite useful if you're in IT and fluttering from computer to computer, however I wonder how often the average user is going to be plugging and unplugging a charger cable that they are willing to pay more to not look at.
At the other end of the cable is a Micro USB connector for your Android devices, and a Micro USB to Lightning adapter that's attached to the cable but can be popped off, allowing you to use it with an Apple or Android without having to hunt for a different cable.
The only thing that this is missing to make this cable perfect since we've got a reversible USB, a lightning connector which is reversible by design, is a reversible MicroUSB to make it so you just don't have to pay any attention to how you plug it in.
I really wish it had that, then I wouldn't wince so hard at the price.
To not pay attention to how you're plugging a cable into a base, and to carry an all-in-one tangle-resistant cable, you're going to be hit with a $25 lazy fee. Oddly higher if you get it from Amazon. If you're in IT, this is actually incredibly useful, but for the non-IT folk I wonder if it's worth it.
It's a great product, don't get me wrong, but $25+ for a cable hurts my soul, along with the massive amount of packaging waste for such a tiny product. My inner hippy has the sads.
That said though, it's extremely useful for me, in IT, and it works.