Amazon suing 1,114 fake reviewers (editorial)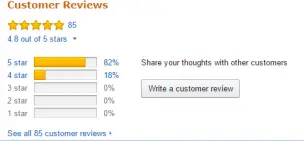 Last week Amazon started going after people who were charging for fake review postings of products, and some of the companies that have been sponsoring them. Yes, I'm a bit late to the party, this isn't news, it's commentary, I'm old and have a new baby, shakes my fist at you younguns.
The scams involve a pay-for-review model, and companies collaborating by creating shipping records to get an Amazon Verified Purchase tag (fake reviewer makes a purchase from Amazon, provides order number to company sponsoring the review, company prints out shipping label, reviewer now is an Amazon Verified Purchase).
How soon it will be before they start cracking down on people being paid in product, and promises of future products, to provide a "fair and unbiased review" remains to be seen as that's basically the same thing except as opposed to a fake review, it's a real person's review that you know if you review badly you're not going to receive another product. I doubt they'll sue these people, but I hope the "fair and unbiased opinion" phrase goes the way of the Dodo.
Amazon is suing the fake reviewers who were charging money under a breach of contract (the Amazon Terms of Service.) They're also claiming that the postings are unfair and deceptive under Washington law and amount to interference with third party contracts. They're probably claiming that second part to add some weight to the thousand plus subpoenas they're going to be asking for to send to ISPs to get reviewer's names.
There is no info on how many reviews each of these 1,114 people posted.
It's unclear whether Amazon will sue the companies that hired the reviewers, they're probably going to want to see if they can get one of the people to sell out their former "employers" first as suing for lying on the internet probably isn't going to net Amazon much in terms of profit.
What is clear though is that reviews on Amazon are compromised (and have been since these Amazon Reviewer programs popped up,) which can be seen by looking at nearly any of the tech gadgets out there now.
Hell, a company I like has the top three reviews claiming they were guinea pigs, received a product for an unbiased opinion, and "got to try it out". 82 other people gave similar reviews. *sigh*
These people were paid in product and gave a 5-star review.
I have yet to see a 2-3 star review where someone claims they were given the product for their honest opinion. That's because they know they won't get any more free product even though a 3-star rating is average/better than average.
It's a mess.
Anyway, if it looks to good to be true, and you read things about being provided a product for free, and you see a five star review for an average (2.5 star,) product, probably just walk away. But I'm probably just preaching to the choir here.
It may sounds like I'm singling out Amazon reviewers for the fraud. I'm not. The game is on everywhere including in blogs and news/review sites.
On a side note, I personally got offered money last week to promote a product (we've received vague things directed at Pocketables in general before.) I feel that I finally have made it in the review game and can now quit.
Also, if you're an Amazon reviewer who got a product and gave it a fair review, don't feel I'm picking on you. Just remember 5 stars is the best, not "does its job, seems about on par with others" which is what most of the 5-star reviews read as.
[
Fortune
]