HTC one day sale offering up to 30% discounts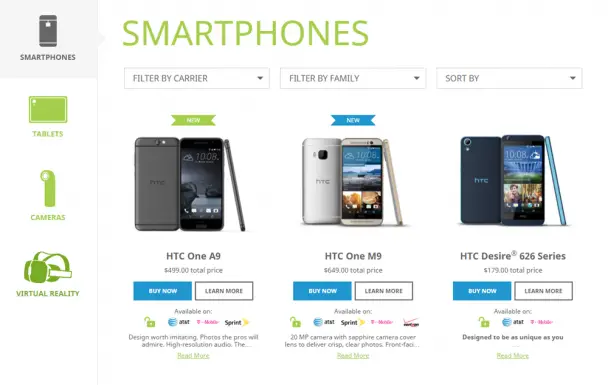 HTC's Hot Deal Tuesday offer today is a sliding discount of up to 30% based on how much you purchase.
The tiers are 15% off of purchases over $200, 20% off if you spend $500, and 30% off is you spend $650.
If you log in and are looking for a phone you should note that they're $649, so you'll need to purchase something in addition if you want to reach the over $649 mark, and for that your options are either another cell phone, an HTC RE camera at $199 (which are reporting Out of Stock,) or an HTC Nexus 9 for $399-599.
I may be missing some combo, but it appears to hit close to that $650 mark your best bet is at $678 by purchasing an One A9 and a Desire 626 for $678. Anything else is under budget or $150 over the threshold. You're going to spend at least $28 to save an additional $65, which is a decent deal but you quickly can tip out of the good deal range and into "I want to win the discount game".
To give a quick list, maybe you can find some combo my uncaffeinated brain can't:
HTC Phones
One A9 $499
One M9 $649
Desire 626 $179
Desire EYE $459
One M8 $649 (really?)
One M8 for Windows $649 (really?!?)
One M8 H/K edition $649
One E8 $649
One remix $399
Other older devices are listed with no price and no purchase links.
HTC Tablets
HTC Cameras
HTC RE $199 (out of stock, no back order)
HTC cardboard box on your face