Anypro 15,000mAh 600A charger/jump starter review
If you need to jump start your car, phone, laptop, or 3.5L diesel engine, chances are you've never considered a single device for all of these, mostly because there's not been a single device that really worked well and weighed less than 20 pounds that would do it.
The Anypro 15,000mAh battery claims to be able to run most 19volt laptops 2-3 hours, should be able to charge about six or seven phones from dead to 100% at 2.1amps over two ports, and can jump start a 3.5 liter diesel about 20 times with a peak amp output of 600.
It also includes a flashlight style I haven't run across before – there's your standard on and flashing, but there's also a red/orange emergency mode.
I'm not particularly fond of any of the flashlight modes, they all seem a little dim to me (I can't see any Lumen information provided, but it's low,) but then again I'm a flashlight fiend and if it doesn't blind people at two miles out it's not for me. It's good enough for under the hood of a dead car or a blinking emergency light in the dark.
The Anypro 15,000mAh comes with eight (possibly nine if you count the cable) different 19-volt laptop adapters. Chances are if you've got a laptop from the past eight years this will power it. It also comes with a USB to MicroUSB cable to handle most Android devices, and you can always use your own cables in the USB ports as well.
What's not to like?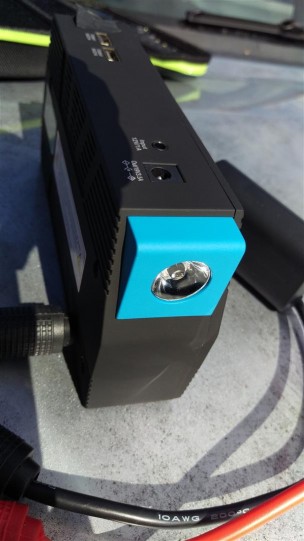 The one thing that really annoys me about this product is the rubber protective cover for the jump starter connection.
I mean obviously you don't want this exposed as 300 amps can do more than tickle, but once you pop it off the cover seems to want to fight you at every opportunity putting it back on.
Hopefully you won't have to jump start too many times, as there's no way cold hands can put it back on without wishing someone were hurt. You can get it mostly on, enough to do the job, but if you're OCD you're going to be counting the seconds until you get somewhere warmer and can properly affix the flap.
The flashlight is also weak. At 15,000mAh I want that lamp to give people sunburns at 20 paces.
The device also requires a car outlet or a wall plug to charge (included.) While not a deal breaker, it's always nice to have USB-in charging if you've got USB out.
In use
When you're jump starting a car, there're a couple of modes you can use. The smart mode will alert you when you've plugged in the cables incorrectly, or if you have some reason to do so you can override this and shock the hell out of something with M-Mode (manual). I'm not entirely sure why you would want to unless you're trying to torture someone with a battery, but I'm sure there're legitimate reasons.
Not having a diesel engine to test, nor a photographer, all I can tell is that it starts a car. So, for that it's great.
The company claims a 98% power conversion rate. This means for 15,000mAh you should get 14,700 out of the device, and then you have to deal with its conversion loss on whatever you're putting that into. 98% is the highest I've ever seen claimed, I'd love to have the equipment to test that claim out as that's really, really good.
Amazon ratings / review stuffing
As you know, I get these things free. I also attempt to call out companies when they've given these out for free to reviewers who auto 5-star them on Amazon (5 star=best product ever, not I got it for free.) A quick look at the 28 reviews thus far posted indicate that one person it didn't work for, one person is claiming the reviews are all biased (but they're not someone who purchased the product).
Of the 26 five star reviews, 21 of them claimed to have gotten the product for free. Five didn't mention that.
Assuming we drop the guy who didn't purchase it and everyone who got it for free, we have one person with a defective unit and five people who like it better than anything in existence. As near as I can tell that makes this a B grade experience. I'd call it a B+/very low A based on meh documentation, annoying flap design, lack of lumen specs on the light, but extremely high conversion rate and nice overall package.
Above average overall.
Overall
Other than not having a tire inflator it's a great thing to carry around with you, however it's a bit spendy with a MSRP of $229.99 and a price tag of $89.99 on Amazon.
The price for me to consider it currently a five star product is in the $49 range now that I've played with a few of these things. 4.5 star we're looking $55. I could go on, but I'm going to say that when the price passes $80 the only thing that this one has for cars over a PSX3 or similar is that it's significantly lighter and can be taken into a restaurant to charge your phone without getting weird looks.
It's an above average product with a below average oomph to $ ratio.
So, good product, priced too high for my cheapskate blood. I don't think you'll be disappointed in what it does, but you might want to think about whether you really can imagine a scenario where you need to jump start a truck, power a laptop, and charge your phone. It's a bit of overkill for most, and as it will only reach a claimed 3.5L diesel engine start size, it may be a little underpowered for monster truck drivers on your gifting list.
The Anypro 15,000mAh 600A charger/jump starter is available on Amazon for $89.99