ELEGIANT VR 3D Glasses Headset review
The ELEGIANT VR 3D Glasses Headset is your basic Google Cardboard on steroids device. You place your phone in, and then any side-by-side 3D apps look like they're popping off the screen. It should be noted that this headset made of plastic and glass and contains no VR assist technology. All SBS VR is done by your phone and apps.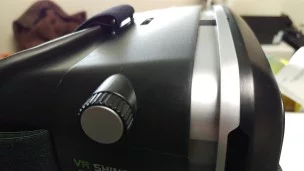 I'd reviewed one set of this style headsets a while back from The Sharper Image and wasn't impressed as I couldn't get a sharp image no matter how many adjustments I did. There was also the problem of light leaks, and overall I was not particularly impressed with the headache those gave me.
Fortunately the ELEGIANT VR 3D Glasses Headset suffers from few of the shortcomings that the ones from the Sharper Image did.
What's in a name?
I'll also note that I'm a bit unclear on if the manufacturer is ELEGIANT, or SHINECON (which is printed on the front and side.) I'm going with the Amazon product name as even having the documentation it's a little unclear if that's the product name (VR SHINECON,) or manufacturer.
Basically someone with the reply email address of Banggood.com (oddly not a sex enhancement drug website,) sent me the VR SHINECON headset and a product link to Amazon that the product name is "ELEGIANT 360 Viewing Immersive Virtual Reality 3D VR Glasses." The product description called them ELEGIANT 3D VR Glasses, but there's nothing with that name I saw in the documentation.
In use
I noticed no light leaks except around my nose. I don't think there's going to be a universal perfect fit for that, so I'm not counting that against them. All you can do there is add some padding or include a black cloth or something.
I was able to adjust the view/focus with a knob located on the exterior of the glasses so I did not have to take them off and adjust, and I got the desired effect within two minutes of opening the box.
That two minutes included me applying one of their rubber nubs to space out the universal mount so it wouldn't keep pressing Volume Up on my HTC One M9, but that seemed to be the only adjustment other than turning a knob that was required for me to view 3D without absurd eyestrain.
I watched a best of SBS video on YouTube, had no problem with most of the 3D effects although some I did have to adjust the knob to see properly, and a couple just seemed blurry. I have a feeling that there's something different between 3D SBS styles as some required one knob setting and some another. Fortunately this was adjustable in a second rather than having to take the glasses off and guess.
I downloaded a roller coaster simulator and took a virtual ride on a 3D coaster and was impressed with the 3D although there were some app-based issues where it lost track of where my head was pointed. Not a fault of the glasses.
The headset has large openings on either side that allow you to run wired headsets out, or connect a charger. I'm a bit confused as to how large the openings are and how there didn't appear to be any light leaks, but there weren't any that I noticed in testing. The side openings allow your phone to vent and charge according to the manual.
The closing clip is magnetic so it just closes and closes securely. There's also a rotator up top that moves the eye pieces slightly apart for your viewing ease.
Overall, as a Google Cardboard-style VR headset this thing works and works well for devices from 4.7″-5.9″ screen size (4.62 x 2.46″ max phone dimension).
The only thing I don't like about this for its type is the price. That said there's a $5 discount code on Amazon of 3TQTEZP7 that should make me dislike the price a little bit less. Coming in at $35.85 on Amazon (or $30.85 after code,) it feels exactly $5.86 more than I'm happy with. $10.86 without the code.
That said, I'm a cheapskate, moreso now than before. I also don't have a whole lot of use for 3D glasses, so my cheapskate target may be a bit off.
I have a slight issue with them calling the things a "personal IMAX at home," however my inner resolution snob and my video industry porcupine have both agreed to not pop up the quills and talk about 18K 70MM film vs 4K/2 SBS video.
Anyway, if you're looking for Cardboard-style VR headsets, I don't think you'll go wrong with the ELEGIANT VR 3D Glasses Headset. Make sure to try the code up there and let me know if it doesn't work.
The ELEGIANT VR 3D Glasses Headset  is Available from Amazon for $35.85