Sumsonic 20″ Neoprene Cable Management Sleeve review
Tired of the tangle of tons of cables, but you change things around so much that zip ties are a royal pain? Sumsonic has a neoprene cable management sleeve set that might be what you're looking for.
First off, it should be noted this is a pack of five 20″ sleeves for 100 inches of cable wrapping goodness. This allows you to segment, join wires where you need to, and otherwise do the job that a straight wrapper probably wouldn't allow without holes for cables poked along the way.
For the wires, you take one Sumsonic 20″ Neoprene Cable Management Sleeve, wrap it around the wires, and zip it up. Now instead of a cable nightmare you've got one black wrapper going down that looks significantly less unsightly than two monitor cables, two power cables, a USB line or three, etc.
The neoprene is slightly stretchy so you can squish slightly more cables in there if you want to work the zipper. Overall for what it does I'm happy with them.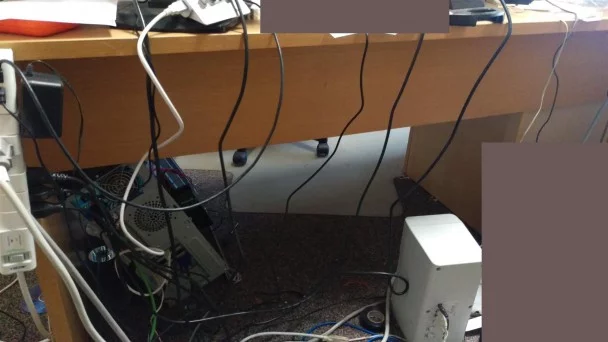 While very little can help out a desk with three monitors, two keyboards, two mice, a wacom tablet, three USB hubs, a computer that requires a 30 degree tilt to operate, two speaker systems, and a host of gadgetry, the management sleeves at least cleared up some room and make it a little less of a fiasco of the visuals.
Compared to the cable solutions we have in the office at the moment, these are the tops. I'll note that our management sleeves and ties are rather ancient though and consist of things that remind me of bread wrappers.
Overall however I am pretty happy with these, they're a little more than I'd want to pay for them, and the MSRP I would just walk away at, but they do the job well. If they were $12 I'd buy about two packs to take home and attempt to tackle the gigantic fiasco of an entertainment console I have.
These are the best sleeves I've ever worked with. Keep in mind however that I haven't worked with much modern, and I kind of wish they were a little stretchier and had some way to secure to a desk, wall, etc so i could maintain straight lines.
The five pack of Sumsonic 20″ Neoprene Cable Management Sleeves are available from Amazon for $15.99