Ditto – a discrete wearable notification device
I thought I'd talk about my past three days using the Ditto – something I sort of dismissed as a fancy phone tether and had trouble grasping the usefulness of until I used it.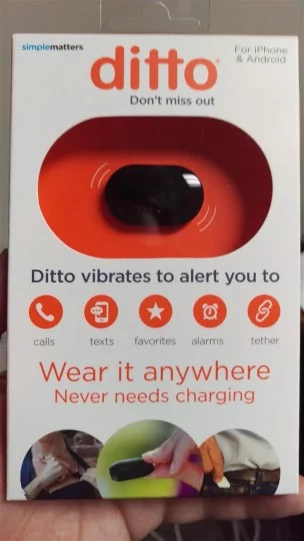 It's a product I probably never would have requested, but I picked up after talking to the enthusiastic rep at Showstoppers in Vegas last month.
My notification nightmare
The nature of my many jobs requires me to be always connected as each minute I'm out of reach a fire could spread, water could be sloshing toward a fuse box, or more likely a computer blew up and now we've got a person down a day.
Or I'm running some network cable, crawling through the ceiling, and I get a call that the heat is off at my house and the baby is going to freeze.
With my phone I get notifications about emails (several accounts,) texts, Skypes, a couple of games I play, anything Google Now thinks I need to know (which usually I do,) Facebook mentions, Facebook chat, and more things that shove their way into my notification bar and cause the light to start blinking than I'd like to think about.
Most of my notifications I've got audio turned off on these days. I had to do that or my phone sounds like a casino, but even with the audio off I've got to get notifications while attending meetings, while using both hands to shut off a water main, while pulling a kitten from a burning tree, etc.
If the phone isn't in my pants pocket, I'm not going to feel it vibrate, which means my silencing of the casino of my phone causes me to miss notifications.
What that has entailed is me taking the time to look at my phone every so many minutes, clear away the overload of notifications, and set about answering things.
And lord help me if I have a day where I forget my phone (two days ago).
The Ditto in use
The Ditto is a device you either clip to yourself somewhere or wear on a watch strap they include. I don't like the idea of the watch strap much, but eh, you want the thing on your wrist that's your call.
The application that comes with the Ditto and works on Android or iOS allows you to define a custom vibrate pattern for various notifications (email, whatsapp, sms, phone calls, calendar, device alarms, Facebook Messenger, Hangouts, WeChat, Facebook, SnapChat, Instagram, Uber, KikChat, etc.)
When you receive a notification your phone does whatever it's going to do (silence, vibrate, plays the Hallelujah Chorus,) and the Ditto vibrates to however you had it set. These vibrations are all the same intensity, but are broken up something like Morse Code except it's more like dot dot wait dot wait dot dot as there're are no dashes.
I had it on my collar two days ago while I was playing with my daughter. Phone on silent but racking up notifications. I didn't have to stop playing with her to check if I had a text come in that I needed to pay attention to. I eventually got a dot dot dot notification, but didn't ever have to wander over, pick up the phone and look, or leave it playing the symphony "My Work".
On my collar was good, except Maggie tended to think that it was going to hurt my throat. Not sure what was up with that but I moved it to my jeans watch pocket, and now I get a notification on my hip bone when there's something I need to pay attention to.
There's also a tethering option for when you get too far away from the phone. I decided since I'd only left my phone at home one time in recent memory it was probably not all that useful as I do wander more than 30 feet away from my phone in a normal day.
During a meeting yesterday I got notified of a call without my phone turning into a loose vibrator on a desk, that was nice.
This is something I expect to be using ongoing
That said, there are issues to be aware of:
Issues encountered
My first issue was getting stuck in a firmware update cycle. It shipped with .92? and wanted .97 (I think.) It switched the unit into DFU mode and I walked away for about 20 minutes. When I came back it was at 0% completed.
Not particularly good, and there was no way to cancel or exit because a toast kept popping up to not exit during a firmware update. After about 10 more minutes I killed the app and went back in. It located the Ditto and started the update.
This time it go to 33% and stopped. Wait a few minutes, realize it isn't going anywhere, restart again. Got the message that it needed to repair the firmware due to a failed update, ok, 33% and stall.
Repeated a few more times, decided to try and keep the screen from going dark, got to 34%… ok, new one.
Disabled WiFi, turned off cell data, turned off screen timeout, power cycled the ditto, restarted it and on what I believe was the 11th try the firmware updated.
I had an email into their support team and after it updated I got a note back that I should try it in airplane mode.
So the app needs a little bit of an update on that.
As with any Bluetooth device, the tethering range will vary both by devices and where you're at. I can walk half a building away in a straight line and it still shows tethered, but if I walk into an electrical closet eight feet from my office bam, it's over.
Nitpickery
There are not a lot of options when it comes to the signaling. You have a set of signals you can use and that's that. I can't say Facebook Messenger is "dot dot dot… wait… dot… wait… dot dot" or that an incoming call is "dotttttttttttttttt dot wait dottttttttt".
It's advertised quite prominently as never needing to be charged… that's a big selling point on the front of the package. That's pretty misleading as the reason it never needs charging is because you've got to purchase an entirely new battery when it runs out. Sort of like claiming BBQ coal never needs a gasoline infusion or something.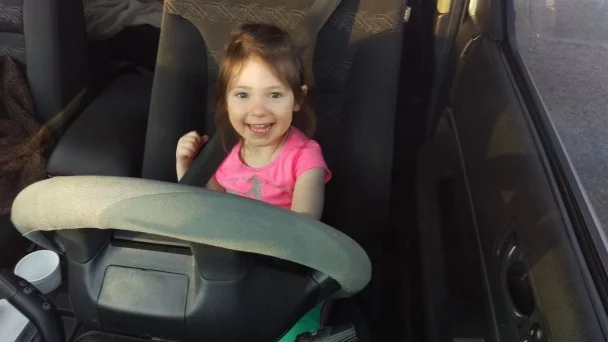 There are no options to turn off notifications based on time. It's 3am, I don't want to hear my pants vibrating because Cracked came out with the 13 weirdest things that would be illegal today from our childhood email.
Should you get it?
Are you in forced notification hell and want to be discreetly notified of things? I'd recommend it. I really wish I'd had this at CES because I had to keep checking my phone for emails and texts (I really had a lot of much workings, great communications! that needed to happen). Basically I was working for about three companies at that point and was considering walking out to buy an Android watch.
That said, for something that reminds me of a large bean that needs batteries occasionally (3 to 6 months is what I'm reading,) the price currently is a bit too steep.
Assuming the thing holds up, which it feels like it will, I'd buy this without hesitation at the $25 range. Unfortunately at the moment it's in the $40 range