At first glance I thought "oh, another portable charger that looks vaguely like a push pop," but then the awesomeness that is officially licensed Star Wars characters smacked my inner skeptic aside and said lustily "want!"
The MimoPowerTube2 by Mimoco comes with a bag, charging cable, and a 2600mAh battery which is capable of charging most modern phone from dead to living at least once. They claim 1.5 charges, however you'd need a phone battery capacity of ~1700 and a conversion rate of nearly 100% for that to happen.
But it's got Stormtroopers and Kylo Ren on it so whatever, I'm going to let that slide. With standard conversion loss you'll churn about 2400mAh out of the thing and you'll look like the happiest nerd on the block doing so.
Besides my inner fanboy with licenced merchandise, the thing feels pretty solid, and it charges phones at 1amp, so not particularly great for tablets or fast charging, but it gets the job done.
The MimoPowerTube2 has a simple USB-out, so you can connect a lightning adapter or a Micro USB or whatever you care to charge to it.
It comes with a Mimoco carrying bag so you can keep your cables with it, but there's nothing particularly compelling about carrying it in said bag. The artwork doesn't seem to be in danger of falling off.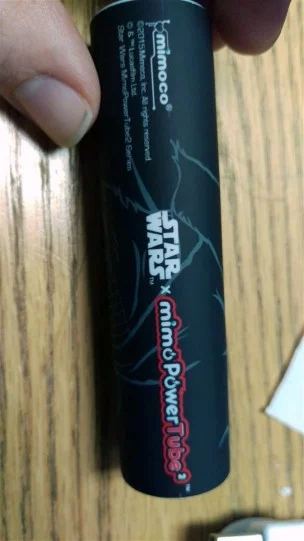 Why would you want one of these? Gifts for your nerd friends, stocking stuffers, something you can proudly display at your cube claiming your allegiance to a fandom, but still use it to charge your phone in a pinch.
Mimoco sells nine different branded MimoPowerTube2 devices including C3p0, R2D2, First Order Troopers, Stormtroopers, lightsaber hilts, Kylo Ren, Darth Vader, and Boba Fett.
I can't say they're the fastest charger on the market, nor the best capacity, but they do have the coolest picture, so that's what you're paying for. Nerd.
You can find the nine Star Wars MimoPowerTube2 options on Amazon.