Win a 1byone 3-Port USB-C/3.0 Hub w/Ethernet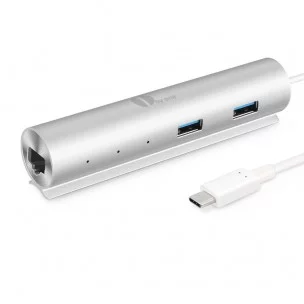 Ok what you're fighting for here is a 3-port USB 3.0 hub with an ethernet jack embedded into it. Useful for the ultra-thin laptops that don't pack ethernet, or if you want to multi-home a computer.
The same basic contest rules as the other contest apply, however for this one you're going to comment with the best insult or trash talk you've read/heard. We're not talking mean, we're talking "wow, that took a lot of imagination."
And tell us what you're planning to do with the device if you win it. You only have to mention what you're planning to use it on once.
Winners will be announced April 8th, 2016. Or around that time. Got a kid's birthday coming up the next day so may be a couple of days late. Not going to lie here.
Anyway, as always, I need an email address on your Disqus profile I can email if you're the winner. I don't care if it's a 3-shot email account as the only time I'm going to use it is to email you a code if you win.
Same rules with if someone mentions your name as a referral you get extra entries.
So begin with the most clever insult contest below, or go and buy one.