An Amazon Fire Kids edition fail (and how to prevent)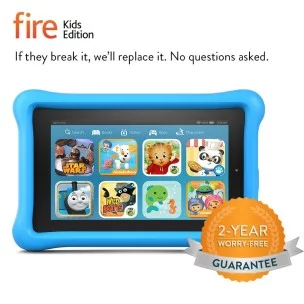 The Amazon Fire Kids Edition tablet is an inexpensive Android based tablet for children that relies on Amazon's ecosystem instead of Google's. It's covered by a two year worry free guarantee that basically covers anything.
During the course of the past few months my three year old has played some educational games, some Amazon originals, and something that I'm not really sure if it's entertainment, a game, or what Dr Panda's Daycare is actually doing.
Whatever the case, it's been useful and she even sings one of the songs one of the apps plays that counts to twenty, so it's not been something that's annoyed me until yesterday, when it told her to sign into the Amazon app store with an Amazon account.
She handed it to me. There was no way in the child profile to do this (no kb, no page transition to a settings page,) so I switched to my profile which usually says "Paul's Fire" or some such. This time it said "Owner" and listed no child profiles. Something was afoot.
There was no account there. I logged back in. Maggie's profile reappeared, we switched back to it only to discover that every game she'd played was gone. Now normally this is not a huge deal, but the Amazon Fire Kids Edition does not have a whole lot of processing power so installing an app takes a while. Maggie started six apps installing that she likes, and we put the thing away after it was evident that even stopping the install of all of them but that one app was going to take a few minutes.
Where the problem came from
Amazon requires an email address to associate your account with you. Same as Google. Two months ago as I was quitting the non-business Comcast life I changed my Amazon account listed email. The way a smart OS should take this is that it's got an operating token, just keep on plugging. What Amazon should have simply asked was for me to update the email address and then unlock all the games.
What they did was evidently bump the tablet out of the account, and delete everything my child had installed or accomplished on login.
Now, keep in mind, for her this isn't much. There's not a lot of save games for 3 year olds. App stories tend to repeat themselves, and the children's books she has I pretty much remember.
But what about an older kid using educational software? Games that actually work goes into?
What you can do
If you change your email on Amazon, just make sure to change it on the Fire Kids Edition tablet that day, or be aware that a potential kid profile deleting change may be coming.
You mad bro?
Not really, for me this was a slightly annoyed kid and an opportunity to see why I generally choose the Google over the Amazon.
That said, imagine I had an older kid with a math helper app. Or imagine said kid had a lot of time invested in an app that got blown away.
Just a warning, I'll submit it to Amazon as a bug report when I can.