Nixplay Seed digital photo frame review
The Nixplay Seed digital photo frame is a WiFi connected device that can display all your favorite photos and enable friends, family, and loved ones to shoot you over pictures as well (only if you explicitly allow them to).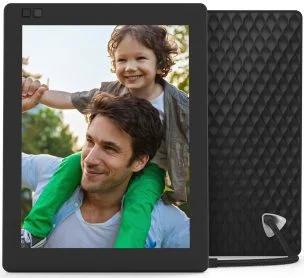 I've had a Nixplay Edge (different product, same concept,) on my shelf displaying a series of 1,709 photos for slightly over a year, so when I got a chance to play with the Nixplay Seed (prettier, faster, frame color options, more awesome, bigger,) I jumped at it.
And somehow my dad ended up with it. That's OK though, I picked up another one.
Armed only with the advice from me to set it up next to a computer he had it up and running and accepting photos from me in about 30 minutes.
Should be noted my dad worked in biomedical engineering and may have had something to do with the space program, so you might need to adjust your parent expectations accordingly.
After he was set up I started sending his photo frame pictures from my massive baby collection on my Nixplay account. You can also set up a child or friend account to be able to email you photos if you don't want them to have your password, or just give out your photo frame account and let them upload.
Submitted photos can either go right to the frame or sit in a container if you're worried that someone's going to push bad photos, accidentally or otherwise, directly to your parent's frames. They can then be pulled out of their box and placed in a playlist with some review.
Or you can simply use it as a photo frame and not worry about other people accessing the thing. It is cloud managed though so you will need internet and WiFi to push to the frame and manage it.
Data usage
While I haven't gotten a response yet on if the innards work the exact same as the old frame, those who are worried about data usage should know that the previous incarnations of these frames had have reasonably large amounts of storage internally (6gb) and also downloaded frame optimized photos that are significantly smaller than the multi-megabyte monsters that I uploaded to the website.
You might be concerned with loss of quality, but the display resolution on the Nixplay frame is only 1024×768 (fine in a photo frame, not so much in publishing,) so you're probably not going to notice much difference between a 16 megabyte source image and a 78 kilobyte compressed. Especially from across a room.
Power usage
The frame can be configured for hours of the day to operate, and also can go to sleep after a while that there's nobody in the room. My current Nixplay Edge takes a nap from 11pm-7am and then only comes on when there're people in the room.
The total power consumption per year of this thing is in the sub $2 range even if it pulled as much juice as an iPad pro. My guess is it's probably more in the sub $1 range, but I'll need access to that frame and some time on my KillAWatt to verify.
Photo wrangling
Besides having the ability to email or upload files to the Nixplay website and have them appear on your frame, you can connect Facebook, Google Photos, Instagram, Dropbox, and Flickr.
You can set up dedicated playlists which contain albums and that sounds pretty cool but unfortunately there's no way I see yet to set these up on a timer or schedule. I'm hoping this is something they add to the Cloud side at some point as I'd like to automatically set a time of the day when there's inspiration, a time when there's demotivation, and a time when there're cute pictures of the kids.
That may just be me though.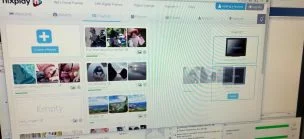 If you're not logged into the primary account holder's Nixplay account sharing is a little bit rough. My dad set up his account and I went to share about 1000 kid photos and immediately found there was a 10 image per share limit. There's no way to share a large album, and there're no evident features to keep USER A's album synchronized with USER B.
I mean, that's getting a bit complicated, but if you've got a family you're getting these for it's something that would be useful. I'd love to have one playlist that gets shared to the fam and not have to select sets of 10 photos for multiple frames.
I mean, I guess I could be in total control of all the frames, but that puts me in the IT support seat again, and it looks like one account can only have five photo frames synched.
Positioning
The Nixplay Seed uses a stiff power cable that doesn't stay out of the way to prop itself up, and a peculiar bulge on the back of the frame makes it not the easiest for wall mounting, so if you're going for a Nixplay Seed you're probably going to want to put it on a shelf. That shelf is going to need to be near an electric plug. The shelf additionally is going to need to be in WiFi range, so there are some things to consider when getting one of these.
I've never encountered an issue with the WiFi, but I'm not sure that I would have noticed it very quickly.
The unit I brought into work I placed in a location my phone refuses to happily operate on WiFi, and other than somewhat slow photo downloads there's no issue.
There's also a setting for bad WiFi that I turned on in settings.
Viewing
I've had four photo frames in the past. Of these two sort of looked so-so from dead on and were unviewable from the sides. The Nixplay devices can be viewed from any angle. The only time I've had issues seeing the images involved dust and sunlight.
Is the Nixplay Seed worth it?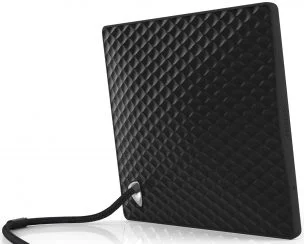 Depends. The current price is on par with a decent Android tablet which can do significantly more, has a higher resolution, touch screen, and can be used in this, that, or the other scenario. Do you want to set that up and do continuing tech support, or do you want to give your loved one a photo frame and say "here you go."
The answer is probably your answer, although if there's a better cloud managed frame for a lower price that might affect that answer some.
I have a feeling if you're a techie you're going to have repurposed an old tablet to do the same job, however fear for sending it to the parents due to the ongoing tech support required. The Nixplay Seed works with only one support visit.
10″ Seed vs my 8″ Edge
The website version is the same, both can be positioned portrait or landscape, both come with a remote, both seem to have the same functions, both pictures look the same to me, Seed feels slightly faster, the Edge has a backup built on to frame controller in case you lose the remote.
The Edge had the ability to place photos on an SD or USB and plug it in, the Seed is exclusively WiFi. I'll point out even with 1700+ photos I wasn't near needing an expansion card in the Edge and the Seed has substantially more memory.
Wrap up
I've had less time than I wanted with the Nixplay Seed to evaluate it on its own merits, but coming from the Edge and having the same cloud based back end, it's really not any different functionally. It's a frame that uses a web based back end and displays your masterpieces and can do some pretty transitions and tricks.
It's a square box that displays memories and generally makes me happy when I pass it. The Edge has for a year and the Nixplay Seed's working on doing the same thing at my dad's house now.
Availability
The Nixplay Seed is available in a seven inch frame, an eight inch frame, and a ten inch frame. Products are prices currently at $99.99, $129.99, and $169.99 respectively. There are four color options available.