Syllable D900S completely wireless Bluetooth earbud review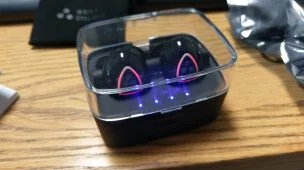 The Syllable D900S is a product that contains two Bluetooth earbuds that function without a wire between the two. Each earbud contains a battery, and operates in stereo without the requirement of a physical tether running across the back of your head, neck, or around your throat.
They come with a portable charging box with a rechargeable battery that fully recharges the earbuds approximately six times giving a total of around 24-28 hours of charge/playback. It should be noted that the portable charging box is the only way to charge these so if you're not carrying the base you're not going to charge.
The base case also has to be completely closed in order to charge. I only point that out after reading Amazon reviews in which people were complaining that it wouldn't charge.
The setup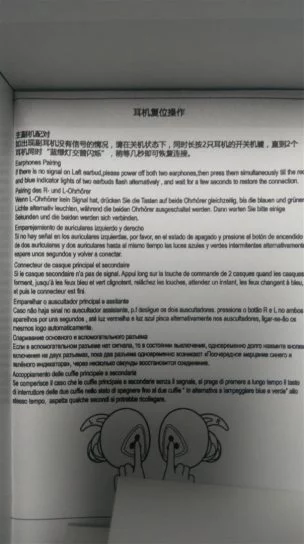 The two Syllable earbuds ship and should be paired when you get them, if they're not there's a set of instructions in the box that says to turn them off, then turn them on simultaneously and hold the button until it starts flashing red blue instead of green.
Yeah, colorblind here… so that took a little work for me. There's no indicator I can see that indicate that they're not paired, which would have been very useful to discover they're not paired you have to start playing music, realize that only the right earbud is working, stop playing music by turning them off, then pair the left and right together using their power buttons and ability to see short flashing colors. OK, this probably only bothers me and 2% of the population so ignore.
Psst R/G colorblind people: when they start charging it's an extremely light red indicator on the earbuds, which you probably also won't see.
The Syllable D900S wireless earbuds ship with either a different or replacement set of ear pieces. I couldn't see anything different with the second set I put on but they felt different. I should point out at the point I changed them I'd been listening for quite a while so maybe just rested my earholes. They also include a left and right tether to hold the earbuds on you in case of headbanging or vigorous exercise, but we'll talk about that later.
Once they're on, talking to each other, they appear as one device to the phone/computer/etc for pairing purposes.
The Syllable D900S in action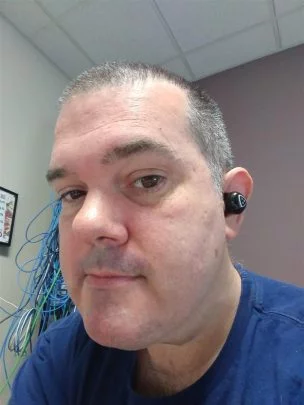 The right earbud is all your device talks to, and then your right earbud broadcasts through your skull to the left earbud. This seems to be an issue with my enormo noggin as if I put anything near either ear one or both of the earbuds will cut out.
I mentioned before that I feel like I possess Bluetooth cancelling properties, and these are really showing that. If I put my hand over my left or right ear one or both will cancel out.
I couldn't get the perfect fit for noise cancellation, which is problematic because the bass is sort of dependant on a good seal. Really, there is bass to these, but I couldn't obtain it from the fit I was able to get.
The audio subsequently came across as kind of flat, unless I was holding the earbuds in my ears. Unfortunately if I was holding the earbuds in my ears I had to make sure not to cover the Bluetooth antenna. With holding them in my ears the sound was pretty good.
Most headsets I've played with in the past give me three or four size options to ensure the perfect fit, this had maybe two (I really can't spot a difference on the earpiece I'm using now with the one it shipped with). I think this might be my biggest complaint as I think the product might be a lot better than I'm able to experience with my general earhole configuration.
Speaking of not being able to get the perfect fit – here's me headbanging for seven seconds before losing an earbud:
I should point out that at jogging level there was never a feeling they would pop out. There's also the tether "wire" if you want to defeat the purpose, or for headbang.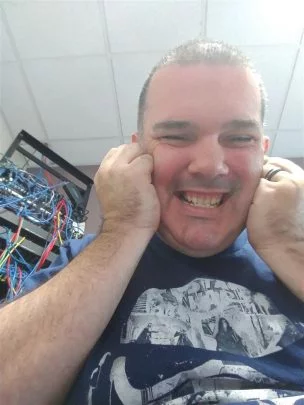 Tech specs from the manual
Driver: 8mm copper-ring loudspeaker
Impedance: 16 OHM
Bluetooth version: V4.0 Dual Mode
Power Level: Class II DSP phase compensation
Working voltage: 3.4-4.2V
MIC sensitivity: -42dB±2dB
Bluetooth freq: 2.4-2.48GHz
Bluetooth distance: 10M
Transmission protocols: A2DP/AVRCP high quality stereo
There are no specs on battery contained in the earbuds or the base unit or IP rating that I could find.
The manual
The manual is pretty badly translated, more so than most I've read. Things such as that the blue light flashes while playing music are in a section labeled Precautions, warnings to "never tear down the headset," and "never perform destroyed operation on the device" are on the page I'm looking at now and it doesn't particularly get better.
Problematic as I really was trying to locate some info on left/right pairing and some fit issues.
There's also a matter where it claims the headsets need 25-30 minutes to fully charge on page 6 and three hours on page 8.
Other reviews + mine conclusion
I don't generally read other reviews or consider the price before I get to reviewing (it always changes, usually to a third of what it is when I review it,) but I checked some when I was having issues with the ear fit. I'll point out that the top three Amazon reviews as of this moment, two five star, one two star, all mention that the ear fit didn't work for the reviewer.
One mentions it's how his ears are in terms of pliability. One screwed them in and managed to get a good enough fit. One never managed to get these to work.
So, conclusion from this is there're a lot of people these are not going to fit. Not a one size fits all sort of thing, and when it doesn't fit you've got a sub par audio experience.
Overall
Sound, when I can get them situated properly in my ears, is on par or better than most. Unfortunately my ears require me to hold them in in order to get quality. I've tried screwing them in, used both covers they shipped with, and done everything to get a good seal. I think my ears and the Syllable D900S are destined to fight. I wish it weren't so as the sound and lack of random wire are actually pretty nice. Yes, there is bass, but it really requires a seal that I can't get.
While I was able to knock out audio by putting my hands up to my ears, I don't think this is much of a concern if you can get the things properly in your ear. I only really noticed it because I just can't quite get that seal.
Lack of wire scraping across my hair or trying to weakly strangle me is actually a lot nicer than you'd expect.
I'd say these are not for all ear configurations (evidenced by Amazon review,) probably not for headbanging unless you use the string/wire tether, good microphone (did make a call on it.) If they fit you I think you'll enjoy them. They just didn't fit my enormo noggin and as such provided me a lot less than I think they're capable of delivering.
You can grab the Syllable D900S wireless Bluetooth earbuds over at Amazon. If they don't fit properly send them back.