AnyMote Home IR blaster review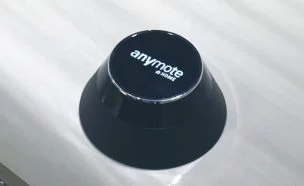 If you've got little kids you probably have come to expect that when you want to watch TV, change the volume, or perhaps turn the air conditioner on or off, the remote is either not going to be there or it's going to be caked in a thick sticky kid goo of some sort.
While we just sailed through a brief period in which cell phones had IR blasters, manufacturers seem to have abandoned them on almost all flagship phones for reasons relating to little use (except for me damnit!) This was one of my worst realizations when I upgraded to the HTC 10 – great everything, no ability to use an IR blaster to turn on a set top box.
The AnyMote Home IR blaster is a Bluetooth 4.0 LE device that you place in a room and access with the AnyMote software. As long as the slightly smaller than a hockey puck device is in a direct view of an IR receiver on the TV, XBOX, etc you'll be able to send codes to it.
One of the things I loved about my XBOX 360 was the little remote I had that allowed me to power up the machine, eject and fast forward dvds, etc. I can now do that with AnyMote and my XBOX One without having to power up a controller, have it sync, and then figure out which button does what.
The AnyMote Home IR blaster uses two AA batteries and supposedly lasts about a year.
I'm guessing due to it being BTLE it occasionally will take a second for the first set of commands issued in a while to trigger. Like if I press power it may be a good three seconds before I see the TV recognize it, but after that commands seem to issue as soon as I press a button.
What's really neat (in my opinion,) is for people with multiple areas where they might be wanting an IR blaster you can define in the software what virtual remote uses what blaster. No need for all blasters to be firing off at once.
I'll point out that my first IR blaster I was sent appeared to be defective. Weird things were afoot. We did a little troubleshooting and they sent me a new one which I then promptly sat on for about a month because, well, it's been a pretty fun month.
New one worked out of the box, no issues. I gave the old one to a friend with an iPhone who only needs it to turn on some devices in a closet and it seems to be doing the job for him.
So I guess I should point out that the AnyMote Home IR blaster is just a blaster that sits and does its thing. The powerhouse is the ever changing software which has a huge database of devices and can allow you to create your very own remote control that does exactly what you want it to do.
Want a button that will turn on your TV, audio system, cable or satellite system, then turn it to channel X and turn the volume down? You can program that (think a button on a tablet for a kid to turn on Disney XD). Want to create a super simple remote where the power powers everything, the CH up and down go to the cable box, the vol goes to the surround sound system and there are no other buttons? You can do that.
I'm pleased with the puck-sized product, and I'm mostly pleased with the software. It's enabled both me and the wife to control the TV from our phones (it doesn't seem to make a difference which phone we use, although we didn't actually fight for control to do a test they both worked in a two minute window). I can now hide and sanitize the remotes and only keep up with guarding my HTC 10, not the 10, the Roku/TCL remote, the JVC stereo remote, the DirectTV remote, an XBOX One controller, etc…
I did some testing and was unable by placing the AnyMote Home in my living room in various line of sight places to not be picked up by devices in the living room. I could jam it by putting it behind the couch or completely blocking it from line of sight.
I'm pretty impressed.
The AnyMote Home IR blaster is available from Amazon. It's a bit higher than I'd like to see it priced at the moment, but you know how these things work. Excellent gift for those of us without IR blasters built into our phones.