Day 14 With The Ring Video Doorbell
It's now been a full two weeks with the Ring Video Doorbell, and the word that comes to mind more than anything is "nonplussed".
That is to say – it's not a terrible product.  I'm just not blown away by it like I'd hoped.  I don't want to return it, I don't hate it – really, I'm more ambivalent toward it than anything.
I have not had much more success with the motion-capture feature than I had on the first or second day.  I still get false-positives from cars driving by, despite having slowly worked the sensitivity back to about 50% of the allowed range.  The problem is, I don't know what exactly this range means.  The setup screen clearly shows me where 5 feet from the door is, as well as where 30 feet should be.  By my math, that means that the range for this should currently be right around 17.5′ from the door…and the distance from the door to the street is absolutely greater than 18 feet.  I know this because the dumpster I currently have sitting in my driveway is twenty feet long, and I can comfortably park a car behind that.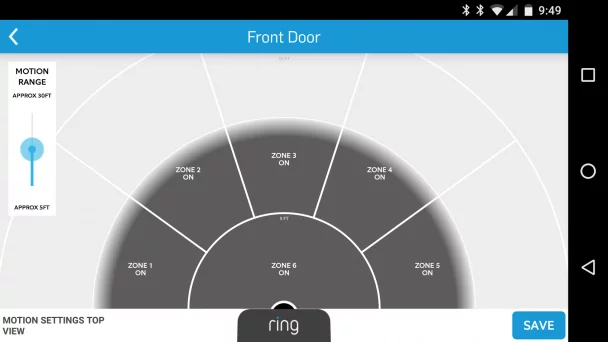 And in that same realm of logic, 18 feet more than within the distance from where the doorbell is and where our cars should be caught, but it is still a crap-shoot as to whether or not entering or exiting the garage will set off the sensor.  Sometimes it does, sometimes it doesn't.  There is no logic to it, it is literally just whenever it wants to.
As far as the motion notifications go…I mostly just ignore them now.  It almost seems better that way.  If I get a live notification and open it up immediately, it skips over the trigger motion entirely, and I will never see what set it off.  If I ignore it for a few minutes and go look after the fact, I can at least see the video video from when it was triggered and forward.  I will probably play around more with the sensitivity, but at this point, it's just another notification on my phone that I don't find to be super-helpful.
All in all, I think my biggest complaints all come back to how the software is designed more than anything.  This is a product clearly intended for the technologically uninitiated, and for that corner of the market, it is excellent.  The Ring Video Doorbell is easy to set up (when you're not using beta software on your device), it is easier to configure, and even my parents could figure out how to use the app in a couple of minutes.
But for the "power user" – those who want more granularity over settings beside a slider, or those who want to interact with the device beyond the stock application…this may not be your cup of tea.  There is no web UI.  There is no option as to where to store your recordings – you get their cloud interface and that's it.  In short, while easy-to-use, I would like more control over my device.  I think some kind of testing display for the motion sensitivity would be invaluable.  We can see the camera feed from our devices already – why not overlay that with a heat map from the motion sensor, and package that into an activity I can use while traversing my front lawn, fine-tuning zones and sensitivity that way.
The sensor software itself could probably stand to be smartened up as well.  It seems that the triggering is done only by the IR sensor (although I could be wrong), whereas if it utilized a combination of IR and video feed, it could probably be better calibrated to eliminate more false-positives without having to completely dial back the sensitivity to the point of making it useless.
And, as I've already stated, I would really, really, REALLY like to see an implementation of an "always recording" feature, similar to what is found in vehicle safety cameras.  The device should have a buffer that always stores 5-10 seconds of "live" footage.  When the motion sensor is triggered, this buffered footage gets appended to the live stream and saved to the recordings available in the app/cloud.  If you want to jump straight to the live feed on a notification, have the notification display a screenshot of what triggered the alert – which would help me decide if I even *want* to look at the stream in the first place.
All this aside – I would still say the Ring Video Doorbell is a good product.  Most of my complaints stem from my being a gadget aficionado and enjoying *total control* over a device…not any real shortcomings of the device itself.  Would I recommend this for a parent or grandparent who is not very tech-savvy but wants a little more security at home?  Absolutely.  Would I suggest that someone running a more advanced DVR-based system add this to their existing infrastructure?  No, probably not.  For a little more money, you can probably find a device that provides similar functionality and a lot more control.
Last but not least…one thing I have not discussed in these reviews at all is the actual *doorbell* functionality of this device.  As it IS a video doorbell, I should at least mention it.  It works great.  Perfectly.  Incredibly.  You press the button on the front, it notifies your phone, you tap the notification and are shown a screen where you can see who is there and talk with them.  Every test of this I've done since hooking it to a wired power supply has worked flawlessly.  The video quality is sometimes a bit grainy for a second, but usually clears up.  The audio quality on my device is also very clear, and audio at the doorbell is indistinguishable from that found in a legacy intercom system.  In short – this works wonderfully.
And that's the Ring Video doorbell, folks.  Let me know if you have any other questions or comments!