BACtrack Mobile Smartphone Breathalyzer Review – Social Testing for the Social Drinker
I'm not a drinker so when BACtrack provided their Smartphone Breathalyzer for review I had to enlist a little help from my friends. Fortunately I had no trouble finding a willing test subject. My friend Jon volunteered to take the unit to Happy Hour at Bright House Field with a group of friends and then on a weekend trip to North Carolina. There were plenty of opportunities to put it through its paces. In general the breathalyzer experience was good. It seemed to accurately measure blood alcohol content and everyone got a kick out of using it. We did our testing using a 2015 Moto X Pure Edition running Android Marshmallow. Keep reading for more details.
THE DEVICE
BACtrack provides everything you need to get started with the breathalyzer. Except the alcohol, of course. In the box there's the breathalyzer unit, a charging cable, user guide, three reusable breathing tips, and a neoprene carrying case. Everything from the packaging to the device itself is high quality. The unit has just the right amount of heft so that it doesn't feel cheap but is light enough to carry around easily. It connects to your phone via Bluetooth and works with most phones newer than a Galaxy S3 or iPhone 4S. The plastic tips are solid and feel like they'll last for a while. The carrying bag was a nice bonus and should help you hold on to those tips.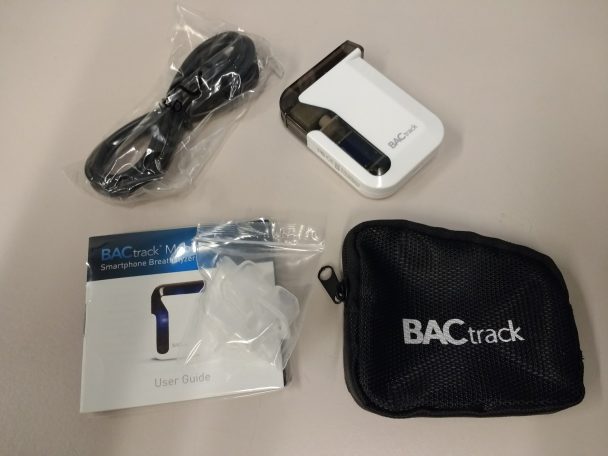 USAGE – THE GOOD
You'll need to download the app from the Google Play Store or the Apple App Store. It's free to download, of course. It's a sharp looking app but we did run into a few issues. First, the good stuff though. After initial setup and connection to the phone we did a baseline test. The results came up quickly and Jon did manage to register a 0.0 (despite being 7:30 am on a workday I wasn't sure he would).
Since everything was in order Jon agreed to do some real world testing. After one rum and Coke he registered 0.04 BAC. The app asks you to verify that you waited at least 15 minutes from your last drink before taking the test. Anything sooner and the results are invalid. After each test the app will tell you what your general state is. For example, at 0.04 it says "your reasoning and memory are likely impaired. Your inhibitions may be lowering." Undeterred by his impairment, Jon pressed on. Four drinks in and two hours later he hit 0.08 BAC, the legal limit for driving in Florida. We didn't have another BAC tester to compare against but the numbers all felt right. One great feature is that the app gives you an estimate of when your BAC will reach 0.00. It was pretty accurate but is only a guide, not a guarantee.
Your test results are recorded and the app provides some nice graphs and charts to check your history. It separates your verified (you waited 15 minutes) from all readings. This makes it easy to see your BAC progression. You can even share your results through your favorite social network. The BACtrack proved to be pretty popular. Everyone in the group wanted to give it a try. Fortunately the app includes a Friends mode. This keeps your friends' readings separate from yours in the history and makes it easy to pass around and share. The multiple included tips come in handy here. The battery on the breathalyzer was pretty good. It lasted for about 30-40 tests on one charge.
USAGE – THE NOT SO GOOD
We did run into a couple of problems. First, the unit uses Bluetooth for connectivity. It has an effective range of 5-10 feet which meant that the phone had to follow the breathalyzer around the group. I'm not sure that passing your $400 phone around among a group of semi-drunk people is a good idea. This caused the Bluetooth connection to drop and we had to restart the app a few times to get things going again.
Another issue that we ran into was in the app itself. Before you take the test that app asks if you want to guess your BAC. Sounds like a fun thing to do, especially with a group of people. Unfortunately, every time we tried to use this feature the app would wig out. Again we'd have to kill the app and try again without the guessing game. This isn't a deal killer but it would be a nice feature to have working.
I would like to see a small LCD on the unit that would instantly show you your BAC. The only way to get your reading is on your phone. It would be nice to have the option of using the phone primarily for tracking and advanced charting while still being able to instantly get your results. Other units in BACtrack's product line do feature LCDs, albeit without phone integration.
VERDICT
The BACtrack Smartphone Breathalyzer is a good product. It definitely has some novelty value and is fun to use with others but it also serves a useful purpose. Its results aren't legally admissible in court but they do give you a good idea of how impaired you are.
If you are looking for a way to help track your alcohol intake its a nice thing to have. You can purchase the breathalyzer for about $97 from Amazon.