Freedom Pop Deal: $29.99 Netgear Fuse 4G LTE & 8GB Data $19.99/mo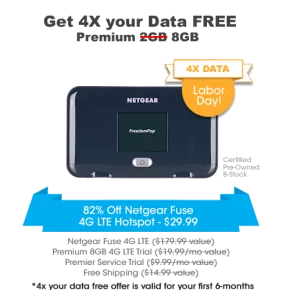 Interesting Labor Day deal from MVNO  FreedomPop
For $29.99 You get a Refurb Netgear Fuse 4G LTE
For $19.99/mo you get 8GB of LTE data from FreedomPop
FreedomPop $29.99 Router and 8GB data plan for $19.99 deal link
Netgear Fuse 4G LTE
LTE speed

1.77-in Color LCD Display

10 Hours of Battery Life, 240hr standby (2500mAh battery)

Connects up to 10 Wi-Fi Devices
I have been using FreedomPop's "Free" Level SIM (bought on a 1c SIM deal) for about a year in an unlocked/refurb ZTE 4G HotSpot Z64 originally for T-Mobile. I use big red as my primary carrier on my phone, but sometimes you either need your phone for something else (CDMA),  VZW may not have the best coverage, tethering may not be an option, or Sprint basically has an exclusive, like some venues, stadiums, and metro systems. FreedomPop SIMs also cover 25 countries including the UK, and much of the EU.
As a backup/emergency internet access device my ZTE holds it's charge well, and I have never hit FreedomPop's 500MB Free limit. But this is a great deal here (we do NOT get a referral, just passing along a deal to our readers). You get a Netgear Fuse 4G LTE hotspot (refurb) with 1mo of 8GB data for $29.99.
100% Free Basic Plan – 500MB 4G LTE every month (this is what I use)
$3.99/mo – 500MB of 4G LTE data with nationwide 3G fallback
$19.99/mo – 2GB of 4G LTE with nationwide 3G fallback * LIMITED TIME GET 8GBs for $19.99/mo (we assume through end of labor day, can't find a time)
No contract. No commitment. Cancel anytime.
It appears this was model/name was originally intended to be Netgear's Mobile Hotspot for Sprint and was released July 17, 2015, so about a year old now. Netgear also provides an interface and management smartphone app from all the markets and platforms, oddly the AirCard App Netgear uses tends to get good reviews on the markets like 4 Stars on Play with nearly 2500 reviews. Even more interesting though is this model also has external antenna jacks, so add an inline amp or MIMO antenna and cover your entire camp ground!
If you've made it this far rather than just clicking the first link you're into devices and technical details as much as we are, so here you go…
This is actually a Sierra Wireless AirCard AC779S, SierraWireless Hotspots are now Netgear exclusives.
Things you really want to know:
The radio's actual specs:
AT&T Unite Express 4G LTE: 700 (B17) /850 (B5) /1700 (B4) /1900 (B2) MHz
AT&T Unite Express 3G: 850 (B5) / 1900 (B2) /2100 (B1) MHz
NETGEAR Fuse Mobile Hotspot (Sprint) 4G LTE: 700/850/(1700/2100)/1900/2100/2500 MHz
So the hardware is all in there for the bands, what it uses is firmware/SIM dependent.
Wifi and Antenna:
WiFi 802.11b/g/n
Multiple SSID/Guest WiFi support
WPS (WiFi Protected Setup) enabled
2X2 MIMO
(2) TS-9 external antenna ports
(1) microUSB port
There are guides to unlocking the device out there if you are so interested in roaming outside of FreedomPop's coverage areas, but it's up to you to find those.