Nixplay Iris photo frame review
The Nixplay Iris is an 8 inch digital photo frame that is completely web managed and absolutely great for sending photos to relatives without having to walk them through downloading and moving an SD card back and forth.
I've had about a month of playing with a pre-sale version of these (I had prepped to post a review on the 1st but the embargo got pushed back to the 15th and I was in court. bleh).
It features a 1024×768 IPS display which pixel counting people may believe is a little low, but it's not in practice. You're not printing these photos, you're viewing from a few feet and even my 4K loving self doesn't have a problem with them.
Nixplay has set the bar by which other photo frames should be judged. It sports a perfect display (on the Seed, the Edge, and the Iris that I've personally tested,) and enough storage that it's not hitting your WiFi up for anything once the optimized photos are on the frame so those with metered plans need not worry.
There's not a lot physically different between the Iris and the Seed. The mechanism by which it detects someone is in the room is sound this time rather than the proprietary light/movement sensor (I'm starting to think SONAR possibly as I thought I snuck up on it). The USB power cable is slightly more manageable.
They've updated the software some since the Edge days. It's a little easier to pair a new frame in that it doesn't require you to enter a random password from the frame after you enter the pairing ID. This was my only real setup complaint about the previous frames.
As a photo frame you place on a shelf or desk I have absolutely no issues with this and think it's just about perfect. You might get that limiting statement might come with a "…but" and it does. I really want to mount this permanently to a wall.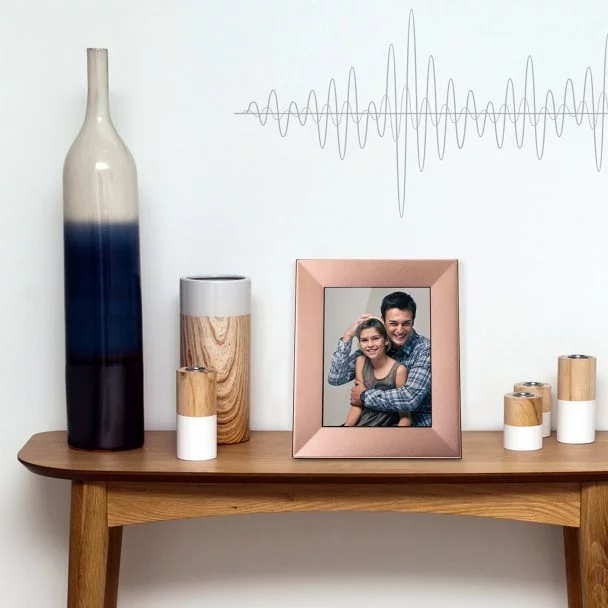 Unfortunately the Nixplay Iris doesn't have that ability. The power cable they use doubles as a kickstand, and the back of the frame bulges out. It's the same as the previous two incarnations, but I've grown to like them so much I'd really like them on a wall and even if I rigged a mount these cable are hard to bend and even harder to conceal.
I'd really like to see a hanging option and a white cable or something that could match the walls. My Nixplay Seed has been in nonstop operation since April of last year and has had the added benefit of letting me show my three year old what she looked like as a baby and that her baby sister will grow up to be like her some day and not just remain a small lump of poo-generating get-into-everything-pain-in-my-three-year-old's-side.
I'm going to disclose here I do get these free. Most of what I review I do (most notable major exceptions being my phones and TV.) I feel the need to mention this because the Nixplay Iris, Edge, and Seed I feel if you value displaying your digital life you probably do need, and that's not something I say normally.
I had all these gigabytes of photos that I could whip out whenever I wanted to go searching through gigabytes of photos and stop whatever I was doing at my computer. Now they're on a photo frame. I don't have to stop what I'm doing to walk down memory lane. Sort of my Member Berries if you will. Also I don't have to devote a wall to never changing photos.
All above said, although I really do love the Nixplay Iris, as an 8-inch photo frame I'm not finding a lot of functional difference between it and the Nixplay Seed or Edge (which is about $60 less expensive.) The differences I can find are that cosmetically the Iris is better.
The Nixplay Iris claim to fame is that is adapts to the lighting situation of wherever it's placed. This is good if you have it in a bedroom or a living room with changing light conditions, however if you're putting this in a hallway or a consistently lighted work environment, you're losing out on what the frame was designed for.
The software back end they're working on upgrading and it's getting better every time I log into it (which is about ever three months when I want to add more photos.) It's not perfect, but it balanced simplicity and usability with a lot of functionality. It integrates with multiple photo hosting providers so you can tag images from Facebook or Google Photos and send them to the frame without having to download and re-upload them.
The Nixplay Iris is powered by a USB adapter that is included. The adapter has plug adapters for two other wall plug types, but not having said wall plugs nor remembering where I put them I can't really say where it works in the world perfectly. Since it's USB I'd assume probably everywhere. The Iris also comes with an infrared remote control that appears to work with the previous two generations of Nixplay frames I have.
I'm going to end this with the statement that I really like this product. The price is a little high for me at the moment, but that's how these things are on first release. It's currently at $199.99, but I expect that will drop soon.
You can get the 8″ Nixplay Iris at Amazon